A door is much more than an entry to your custom wine cellar, it reflects the style and ambiance of your cellar. It is also specially engineered to support the environment of a wine cellar. At Custom Wine Cellars Orange County CA, our doors are exterior grade and available in various styles and designs. No matter the style you envision we have a door for you.
How Master Builders in Orange County Manufacture Custom Wine Cellar Doors
Whether you want a solid wood door, a seamless glass wine cellar door, or a wrought iron door, our team will create the perfect entryway to your wine room.
At Custom Wine Cellars Orange County CA, We Create Unique Wine Room Doors Designed to Make A Statement…
We not only offer custom carvings on wood; we also craft custom etchings on the glass as well. We can do pretty much any design of your choosing, whether they're from our gallery or from your own sketch, we can replicate virtually any design!
We could carve your family crest onto the wood or you may want your company logo etched prominently on glass. We can do all sorts of elaborate designs on glass, wood, or wrought iron with impressive quality.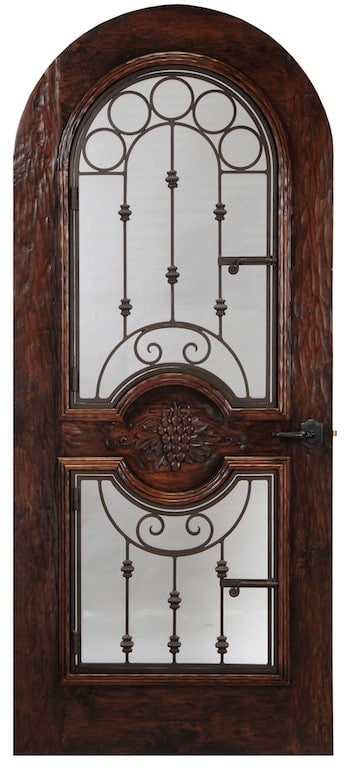 For instance, you could go for an old-world look with intricate wrought-iron details paired with distressed wood. If you are looking for a high-tech contemporary design, we can do that too.
We fabricate equally impressive transoms and sidelights to be paired with your hand-carved wine cellar door. The whole point is, the quality of craftsmanship and detail in your wine cellar door gives you the benefit of a lasting impression on you and your family for years to come.
Engineering:  

How Master Builders in Orange County CA Create Durable and Long-Lasting Custom Wine Cellar Doors for Refrigerated Wine Rooms 
Our custom wine cellar doors in Orange County CA go through a special process designed to fortify their strength and insulating properties.

The core of our doors is made from Laminated Veneer Lumber or LVL. LVL is a fairly new technology that few other manufacturers offer. LVL is a type of wood product where you have multiple layers of thin wood bonded together by adhesives.
This composite nature makes it dramatically less susceptible to warping and shrinking. Furthermore, Laminated Veneer Lumber has much better insulating qualities than plain solid wood.
We added an extra step in the core building process by using a relatively thick layer of solid wood as veneer thus the final product still captures the natural appeal and appearance of a solid hardwood door.
Automated Door Bottom Seal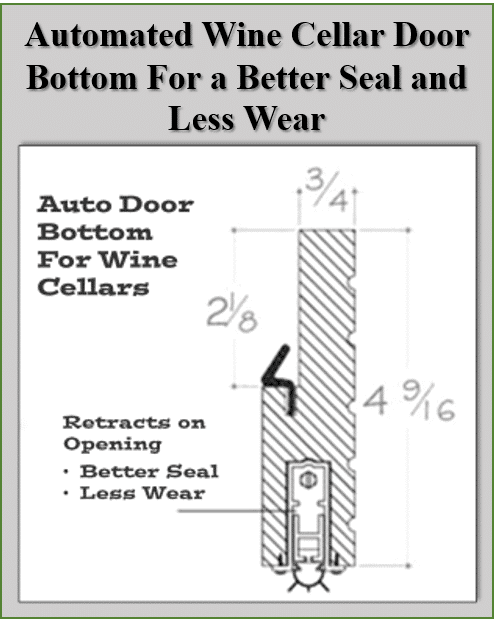 Our wood-based wine cellar doors also come with an automatic door bottom.
This is a mechanical device, built into the bottom edge of the door. It automatically pops up into the core when you open the door but then drops down just before the door is totally shut.
Unlike door sweeps, automatic door bottoms do not need a door threshold for them to function effectively thus allowing your floor design to be consistent throughout the house.
Aside from aiding in sealing the interior air in, our specially designed automatic door bottoms prevent damage to your floor due to door dragging.
We also equip our custom wine cellar doors with weather stripping. We install it around the door to prevent the warm and cold air from leaking in or out of your wine room. Air leakage will cause condensation or moisture build-up, which can be detrimental to your wine collection, wine racks, cork, and labels. It can also trigger the growth of mold and mildew. 
By including this step in building custom wine cellars, Orange County Custom Wine Cellar Doors are truly exterior grade. This means you may also use them as front doors, as well as for patio or deck entrances. Our team of experts will ensure that our wine cellar doors are not only beautiful. We manufacture them with safety and functional features.  
Bottom Line
The use of Mortise & Tenon joints, Laminated Veneer Lumber cores, and automatic door bottoms gives our hand-carved wine cellar doors exceptional strength, quality, insulation values, and resistance to warping. All in order to work in unison with the rest of your wine cellar to protect your wine collection.
Our wine cellar wood doors include
dual pane tempered glass, (best for insulation)
automatic door bottom, (stops draughts and saves your flooring)
operable iron, (makes it easy to clean the glass)
interior & exterior case molding, stain, and lacquer finish, (only the best!)
7 different moldings to choose from, (whatever your decor we can match it)
weather stripping, (again to stop draughts) and
several wood choices to choose from. (who wants a one size fits all?)
We offer distressing which makes the door look antique. Hardware accents like strap clavos and hinges can add to the illusion that the door is even older.  Also, in our collection of styles, you will find castle-type entries and even small nostalgic cottage door styles. If you can imagine it we can design and build it and turn it into a practical door suitable for a climate-controlled wine cellar.
Type of 

Doors

 Offered by Custom Wine Cellars Orange County CA
Custom Wine Cellars Orange County CA offers a wide variety of design options in both commercial and residential settings. We work with each client, catering to their specific needs to create unique and elegant, wrought iron solutions.  Our designs are tailor-made to the client's specifications. We use only the highest quality materials and skilled artisans to create works of art that will last you a lifetime.
Keep in mind that we design doors that will entice guests to see the wines stored inside your custom wine cellar. This can lead to increased wine sales for commercial wine cellars in Orange County CA. 
Solid Wood Wine Cellar Doors
We had clients in Orange County who hired us to build a traditional wine room for their collection. We utilized wine cellar doors made of wood to complement the design of the space.
At Custom Wine Cellars Orange County CA, we offer hand-carved wooden doors. You can choose from many designs that are available. If you want a personalized door, we will do our best to create your custom design.
Glass 
Custom 
Wine Cellar Doors: Why 
They
 are in Demand in Wine Cellar Constructions in Orange County
CA
Glass wine cellar doors designed by experts in Orange County, California, are in demand in residential and commercial construction projects. You may opt for a seamless wine cellar door if you want your wine collection to be visible to the viewer outside your wine room without obstruction.
It is perfect for hotels, bars, restaurants, or retail stores in Orange County because it allows customers to see the vintages that you are selling without going inside your commercial wine cellar.
You can easily attract the attention of potential clients because your tastefully designed wine rack system can be seen from the outside. Depending on your preference, your glass wine cellar door in California can be made with a wooden frame, with or without a wrought-iron grill, and many other options.
Here is an example of a glass wine cellar door with wooden framing used for a kitchen wine cellar. 
Wrought Iron Grill Wine Cellar Doors
Our wrought iron grill doors are recommended for wine collectors who want to add a vintage touch to their wine cellar. We have several designs for your wrought iron door, which commonly consist of curves but can be basically any shape you can design.
Please let us know if you have a custom design in mind for your custom wine cellar door. We will incorporate it to create a unique entryway to your wine cellar.
Work with a Custom Wine Cellar Door Expert in Orange County CA

Custom wine cellar doors manufactured by one of the master builders in Orange County CA play a crucial role in creating a beautiful wine room for your home or business. Talk to one of our experts at +1 (714) 798-9858