A glass wine cellar door designed and installed by master builders in California has a big impact on the overall appeal of your wine room. At Bella Vita Wine Cellars in California, we are known for our creativity and skills in manufacturing high-grade and unique custom wine cellar doors.
Why go for a low-grade and mediocre wine cellar door when you can work with an expert in building a unique and safe entrance to your collection? We recommend glass wine cellar doors to wine collectors in Orange County California.
Learn more about the styles and construction of this type of door.     
From the ultra-modern look opposite to the more traditional look below, the door design for a refrigerated wine cellar is a critical element to get right in any wine cellar design.
Why Work with 
a 
Glass 
Wine Cellar Door
 Expert in California
A wine cellar has been a favorite feature of homes and establishments in the hospitality industry. Knowledge of how to store wines correctly is vital in building custom wine cellars. Traditionally, wine cellars are located in the basement or underground.  
At Bella Vita Wine Cellars, we know that we have to replicate the conditions in wine rooms located underground to create a safe environment for wines. To achieve this, we have to install efficient wine refrigeration systems and correct insulation. Moreover, we also add features and incorporate a design that will improve the aesthetic value of your home or business establishment.        
You can have stunning wine cellar doors without compromising the effectiveness of your climate-controlled wine cellar. You can achieve this by hiring a company in California that has extensive experience in manufacturing and installing functional wine cellar doors.  
We have been building custom wine cellars in Orange County designed for long-term storage. We have the skills and knowledge about the requirements in constructing and installing different types of wine room doors for Orange County wine cellars. Glass wine cellar doors must be built and installed by an experienced and knowledgeable company.   
Know the Role
s
 of a Well-Bu
ilt Glass 
Wine Cellar Door in Storing Your Collection in a Perfect Environment
Keep in mind that the correct installation of your glass wine cellar door is more important than its physical appearance. An attractive wine cellar door installed by someone who is not aware of the technical requirements will not serve its function. Moreover, there will be wine storage issues that might need you to spend a hefty amount of money to fix them.  
Incorrect installation of your door can cause air leakage and mold growth inside your wine cellar. When there is no airtight seal in a climate-controlled wine room, there will be moisture build-up that can trigger the growth of mold and mildew. When this happens, there will be an adverse effect on the structural integrity of your wine cell, racking, cork, and wine labels. 
A Glass Wine Cellar Door 
Manufactu
red and Installed
 by a Professional in California Will
He
lp Create an Airtight Seal 
The primary role of a wine cellar door is to seal your wine room by preventing air leakage to and from your wine room. Bella Vita Wine Cellars always makes sure that the entrance to your collection is of high quality. We install exterior-grade wooden doors to prevent warping in humid conditions.      
For glass wine cellar doors, we insulate the glass units and equip them with sealing components, which include weather stripping and an automatic door bottom.  
We install weather stripping on all the edges of our glass wine cellar doors to prevent the warm air from entering the wine room and vice versa. The automatic door bottom is also an essential component because it automatically shuts the door.   
Prevent Moisture Bu
i
ld
-Up
 by Using Thermally Insulated Glass Panels for Your Glass Wine Cellar Door
in California
When manufacturing glass wine cellar doors in California, we use insulated glass panels to reduce heat transmission across the glass panes. We temper or laminate the glass units.  
However, Bella Vita Wine Cellars recommends and uses thermal gas for wine rooms that have to be installed with a wine refrigeration system. Dehydrated air can be used for glass insulation. It is less expensive than thermal gas. However, thermal gas can reduce the conduction of heat better than dehydrated air.   
Other advantages of thermal gas: 
Non-toxic

 

Chemically stable

 

Odorless 

 
The most common thermal gas is Argon, which is known to be highly effective and economical. Krypton and Xenon are much more effective but cost more. Keep in mind that the thermal insulation property of glass wine cellar doors depends on two factors: the quality of the hermetic seal and the effectiveness of the gas filling.   
To Have a Strong and Durable Glass Wine Cellar Door
 in Your Wine Room in California
Another advantage of hiring a reliable builder is to provide structural integrity to your custom wine cellar door. As one of the best wine cellar installers in California, our glass wine cellar doors are manufactured with excellent durability and strength.    
Our doors are equipped with spacers, which are similar to frames. Built with silicone sealant, adding the spacers will make your door stronger. The sealant acts as a structural adhesive, which makes our glass wine cellar doors less prone to tilting and warping.     
Make Glass Wine Cellar Doors with Low Vapor Transmission 
As one of the master builders in Orange County, California, our team performs anti-fogging of glass wine cellar doors to ensure that the gas-filled space between the glass panes is dry and no gas will leak out. This method will prevent condensation from forming on the glass.   
What are the Benefits of Using
 Dual-Paned
 Glass Wine Cellar Doors Made by 
Experts
 in 
California
?
With many benefits offered by glass wine cellar doors built by a professional wine cellar contractor, there is no doubt they are increasing in popularity and demand.  
These are the reasons why choosing a glass wine cellar door will make you happy: 
Soundproofing properties

 

Insulating properties

 

Allows you to add a unique and stylish feature to your glass wine cellar door by add

ing a mosaic or mural-like art

 in between the glass panes 

 

Provides a good view of your wine collection from outside your wine cellar  
Hire a Glass Win
e Cellar Door Expert in California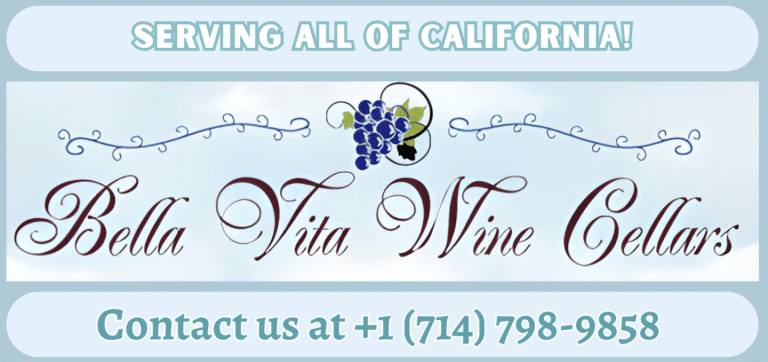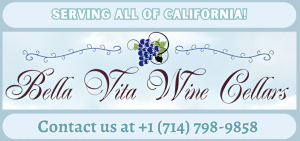 At Bella Vita Wine Cellars, our knowledgeable team will make sure that your glass wine cellar door is built with components and features that will help keep the ideal wine storage environment.  
Whether you're located in Corona Del Mar, San Juan Capistrano, Surfside, Dana Point, Rossmoor, San Clemente, Costa Mesa or in a nearby city in Orange County, our team can assist you in planning your custom wine rack ideas for your wine storage. Get in touch with any of our specialists today and let us help you turn your dream wine cellar into a reality!
If you have questions, please do not hesitate to talk to one of our specialists in California at +1 (714) 798-9858!