A good custom wine cellar in Orange County should not only be designed to store wines in the local environment. It should also be visually appealing and installed with high-quality components. Failure to work with professionals will result in a waste of investment. Your racking style and material play a significant role in achieving the appearance that you want for your wine cellar. Custom Wine Cellars Orange County offers VINTAGEVIEW metal custom wine racks for contemporary residential and commercial wine storage rooms.     
VINTAGE VIEW Wine Racks: Ideal for Building Contemporary Custom Wine Storage Rooms in Orange-County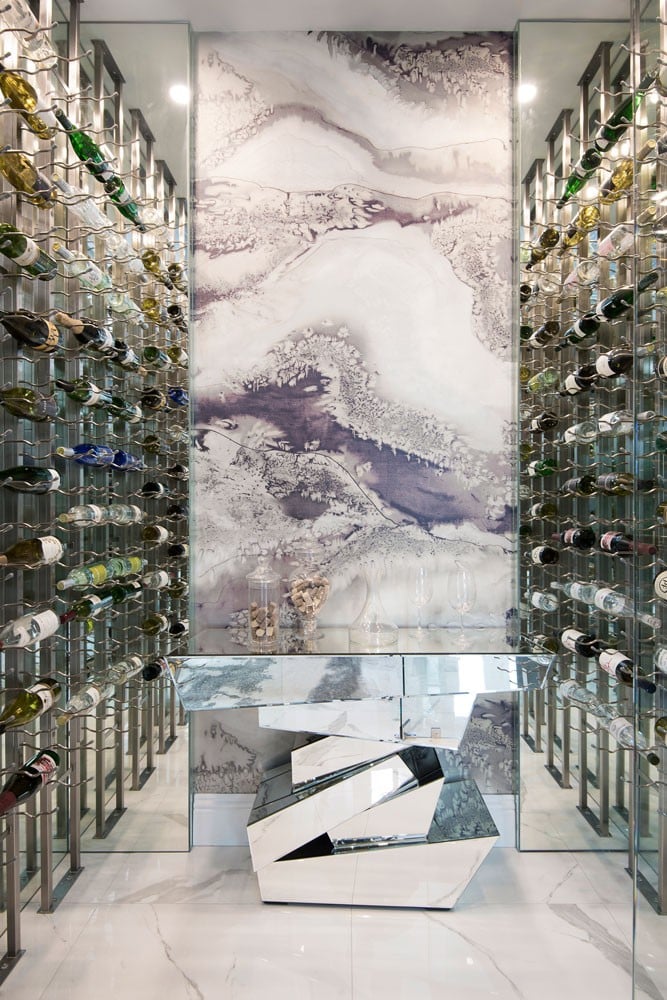 As an expert wine cellar installer in Orange County, our team always makes sure that the overall design of your wine room will complement the existing theme of your home or commercial establishment. Moreover, we also use high-grade components so that our clients can enjoy hassle-free wine collecting for many years to come.  
Nowadays, contemporary wine storage design has been increasing in demand. We had many clients who preferred a minimalist wine room to a traditional one. Just add a dramatic lighting system and glass components, and voila! Your beautiful custom wine cellar is ready to make you proud! 
For the wine racks, Custom Wine Cellars Orange County and expert installers use metal wine racks. One of our favorite manufacturers of metal wine rack systems is VINTAGEVIEW. Their products are becoming more popular in the design and construction industry.   
VINTAGEVIEW metal custom wine racks are known for their many advantages: 
sleek appeal

 

ability to complement any decor or existing theme

 

durable and sturdy

 

Various styles to choose from 

 

offers flexibility in design and installation

 

easy to maintain

 
All of VINTAGEVIEW's products are designed with a label forward orientation. This feature allows you and your guests to browse your wines quickly. It also eliminates the need to flip the bottle if you want to see its description, preventing the sediments from being disturbed. Disturbing the sediments in a bottle of wine will affect the texture and flavor of the wine.     
Let us know your requirements to help us determine the most suitable style of wine racks for your project.  
How a Lovely
 Contemporary Custom Wine Storage Display
 Will Bene
fit Residential Wine Cellar Owners in Orange County
For residential wine cellars, good wines served in a luxurious ambiance through your contemporary wine storage and display area will provide your guests with a memorable experience. Additionally, a unique feature in your home will increase its resale value if you plan to sell it in the future. It will be easier to find a buyer.    
The Benefits of an Attractive Contemporary Wine Cellar in Your Commercial Establishment
Contemporary-style wine storage in your restaurant, hotel, bar, or retail store will entice potential customers and can help increase your wine sales. Keep in mind that a well-organized and attractive presentation of your wines will tell customers that your wines are of high quality and that, you as the owner, desire to provide them a better experience while they are on your business premises.   
Different Styles of VINTAGEVIEW Wine Storage Systems for Lovers of Contemporary Design 
VINTAGEVIEW wine racks are available in pre-made and custom. Pre-made wine racks are readily built and ready to be installed. They are available in sizes and styles. We recommend them for regular-shaped wine cellars and box-type spaces.  
On the other hand, if you want to personalize or add unique features to your wine rack design, we suggest that you opt for custom wine racks. They are designed according to your desired style, allowing you to add a personal touch and other features that will make your racking more functional. With various styles to choose from, it is best to consult with one of our experts.  
VINTAGEVIEW Wall-Mounted
 Custom
 Wine Racks 
VINTAGEVIEW wall-mounted custom wine racks are perfect for small wine cellars. They can bring dull walls to life and are easy to install on any wall surface, including wood, concrete, and drywall. VINTAGEVIEW's wall-mounted wine racks include the Column Wall Series and PEG Series wine racks.  
Column Wall Series Metal 
Custom 
Wine Racks
If you want most of your bottles to be cradled in single-column custom wine racks, you can choose the Column Series wine racks. Our team will arrange the column wine racks according to your style preference.  
Big Bottle Series (4 bottles) 

 

Wall Series Single 

 

1-foot (3-9 bottles) 

 

2 feet (6-18 bottles) 

 

3 feet (9-27 bottles) 

 

4 feet (12-36 bottles) 

 

Le Rustique (6 bottles)

 

Magnum/Champagne Bottle Rack (9-18 bottles) 

 
Vino
 Series Wall Mounted 
Custom 
Wine Racks
VINTAGEVIEW's Vino Series makes use of pins or pegs, which are attached to a clean surface. This type of wine storage system is ideal for wine collectors who love a minimalist wine cellar. The pegs available are made from metal and acrylic. We offer Vino Rails and Vino Pins Series. 
Vino Rails Designer Kit

 

Vino Rails 1 Bottle Wall Mounted Wine Rack (Cork Forward)

 

Vino Series Magnum Rails, 1 Bottle Metal Wine Rack

      

 

 

Vino Pins 1 Bottle Metal Wine Peg Starter Set

 

Vino Pins Metal Wine Peg Kit (2-3 bottles deep) 

 

Vino Pins Designer Kit

 

Vino Pins Acrylic Wall-Mounted Wine Rack (1 Bottle)

 

Vino Series Magnum Pins Starter Set

 

Vino Pins Magnum or Champagne 2-Bottle Kit

 
Freestanding VintageView Metal 
Custom 
Wine Racks 
We also offer freestanding wine racks from VINTAGEVIEW. These storage units are known as the Evolution Series wine racks. We recommend them to restaurateurs, retailers, and homeowners who want to create a wine storage area using a few feet of floor space. Freestanding wine racks are suitable for small wine cellars built in a walk-in closet or a tiny apartment.  
VINTAGEVIEW's Evolution Series wine racks are a mix of metal and acrylic. Different sizes are available. Custom wine racks will allow you to accommodate the number of bottles in your collection.  
Evolution Tabletop 3-Bottle Wine Rack  

 

One (Metal and Acrylic Tabletop Wine Rack)  

 

Mini 6-Bottle Tabletop Metal Wine Rack  

 

180-Bottle Island Display Rack 3  

 

234-Bottle Island Display Rack 4  

 

288-Bottle Island Display Rack 7  

 

378-Bottle Island Display Rack 7 DLX  

 

Bot

tle Island Display Rack (single-

sided)  

 

Bottle Island Display Rack Endcap  

 

Point of Purchase Display Rack   

 

Evolution Metal and Acrylic Wine Case 

 

Case & Crate Bin Tall Kit   

 

Case & Crate Bin Short  

 

Case & Crate Locker Tall   

 
Start Building a Contemporary Wine Storage and Display Area in Your Home or Business Establishment
Custom Wine Cellars Orange County offers innovative wine storage solutions for both residential and commercial applications. VINTAGEVIEW has been one of our providers of contemporary custom wine racks.   
Do you have questions or need help with your wine cellar project? Talk to one of our specialists at +1 (714) 798-9858