There are many wine cellar flooring possibilities, why stick with traditional options? Work with one of our design experts to find a solution that will give you something truly unique.  At Custom Wine Cellars Orange County CA, we select beautiful wine cellar flooring that will complement your home. We also install them correctly so that they will be stable in the unique environment of a climate-controlled wine cellar. 

Wine Cellar Flooring Options and Recommendations by our Design Specialists in 
Orange County, California.
Custom Wine Cellars Orange County CA is one of the best wine cellar designers in Southern California. We have converted small unused closets as well as large rooms into stunning and functional custom wine wall displays or wine cellars. With extensive experience in the design and construction industry, we are proud to say that we have exceeded our client's expectations because of our passion and creativity.
Every element in the process of building a custom wine cellar is vital. One of the elements is the flooring of the wine cellar. We help you select from many beautiful flooring options, including reclaimed wine barrels, cork, and bamboo. Keep in mind that it should not only suit your design goals but also be installed properly to avoid issues unique to a refrigerated environment. Inexperienced builders rarely realize the problems that can occur over the long term in a wine cellar environment when an inferior product or substandard installation techniques are used.
Bamboo Flooring
There are many types and colors of bamboo flooring available throughout the Orange County area and even the whole state of California.
We have a number of suppliers we work with which gives you a wide selection to choose from.  We only work with the best to guarantee your satisfaction.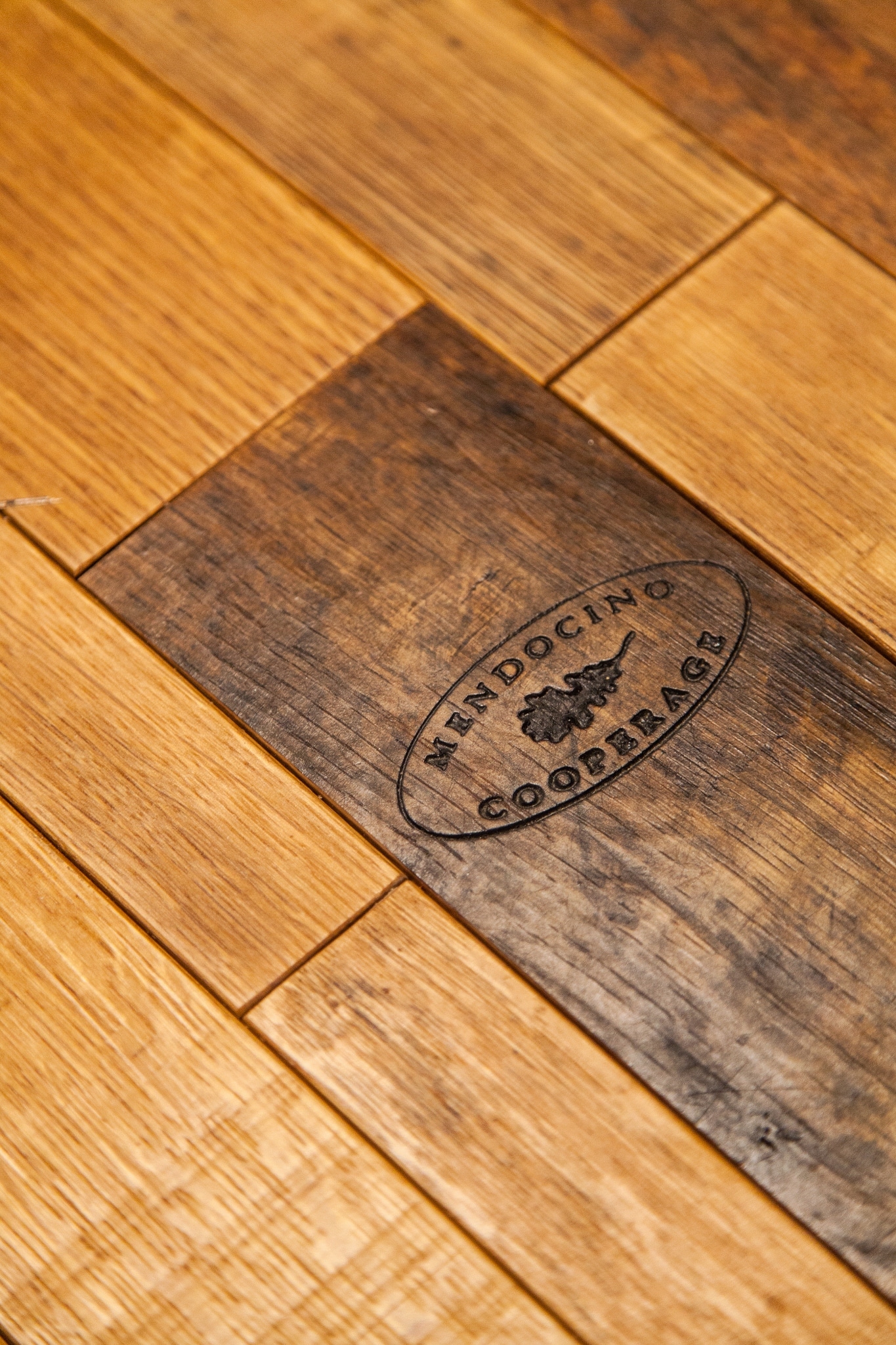 Please call to talk to our designers about that special look to complement your cellar.
Wine Barrel Flooring
Repurposing wine barrels used in the wineries can help save Mother Earth. Instead of filling landfills, builders and designers thought of a way to utilize the reclaimed wine barrels for wine cellar flooring.     
In order to showcase the wonderful colors and natural variations between each piece of wood, no stain is added.  However, we do coat our floors with water-based polyurethane in a satin finish for durability.  As there are no two pieces of wood the same, just as there are no two barrels the same, we make no effort to match tones or color as this would completely change the look and finish.
Countertops, Feature Walls, and more…
Reclaimed Wine Barrels can be used as an awesome material for all kinds of features in a wine cellar. We have installed them as a dramatic finish for feature walls, as well as countertops and display backdrops. Constructed from real reclaimed wine barrels, anywhere from 6 – 50 years old. The material is hard-wearing, comes in random length barrel headstock, 5/8" thick, tongue and groove engineered, pre-finished on the face, and suitable for flooring and or most flat surfaces. Tabletops or countertops are custom 1 1/8″ thick, pre-finished on the face, edge-banded and cut, and ready for drop-in installation.
Cooperage Style Wine Cellar Flooring
As stated above, repurposing wine barrels makes a lot of sense, it keeps it out of landfills and it is such a beautiful and robust wood, why would you want to just dispose of it anyway. Part of a barrel's beauty is the cooperage marks; these marks are similar to the branding done to livestock to show which winery the barrel of wine or distillery the spirits belong to. This makes each cooper signage unique. In a special process that preserves these unique pieces of history, the outside of the barrels is tempered, reinforced, and processed to lay flat making them an excellent choice for the discerning wine lover.
The uses for this type of specialized wood are endless, floors are the first thing that comes to mind, but it can also be used for countertops, walls, ceilings, table tops, and bar stool tops. As the cooperage is often on the top and or bottom of the barrel as well even these parts can be used allowing your imagination to run riot on what you can create. Your inspiration and budget are your only limiting factors! Installing cooperage products into your custom wine cellar, whether residential or commercial wine cellar projects will make the statement that you have a discerning taste for the best things in life.
Wine Infusion Wine Cellar Flooring
If you are looking for planks made from the inside of the barrel, we recommend that you choose the Infused style wine cellar flooring. The interior portion of the wine barrel is naturally stained or "wine-soaked," displaying pinkish to reddish tones.   The redder and stronger the wine, the redder the inside of the barrel becomes. Some barrels have held many varieties of white wine for instance giving a wonderfully rich cream to brown color. The choice is up to you, we've seen some wonderful floors where a combination of red and white barrels have even been used.

Stave Wine Barrel Flooring
The Stave wine barrel flooring is constructed from the vertical wood planks from the outside of the barrels. The markings left by removing the metal bands when taking the barrels apart add character to your flooring. No two planks are the same, creating a very unique flooring. Stave wine barrel flooring can also have what's known as 'Cooperage', these are the logos of each winery, as there is usually only one cooperage per barrel, they are highly prized and are in short supply. This means you will only get a small percentage of wood that includes the marks on your new floor.
Cork Flooring
Another way to incorporate an environment-friendly feature into your wine cellar design is by using cork flooring. Cork is not only effective as a bottle stopper but is also an excellent material for a humid environment in refrigerated custom wine cellars in Orange County.      
Today's floors have a variety of custom designs and vivid colors to suit every need and taste. In addition to its durability, cork produces a cushioned feel and sound reduction, and it's easy to install.
Cork is an amazing naturally growing bark of the tree L. Quercus suber, commonly called the cork oak. It is made up of up to 40 million cells per cubic centimeter making it very dense but the cell membranes retain gas, which gives cork its capacity to float, insulate and re-expand quickly even after being compressed. Cork is natural, recyclable, and biodegradable and there are no natural or man-made materials that can replicate its properties.
Cork is pretty amazing in that it retains all its unique qualities of flexibility, elasticity, and compressibility along with its extreme resilience, impermeability, lightness, and insulating efficiency even after being cut away from the tree. This makes it ideal for many flooring applications, especially custom wine cellars.
Added to all the aforementioned naturally astounding abilities, Cork is also hypoallergenic and mildew, moisture, dust, and pollen resistant. As a building material, it is an excellent choice for a wine cellar because it is also flexible, water-resistant, soft, and warm.  You really can't ask for more in a product!
How We Install Wine Cellar Flooring

 Correct

ly
If you want to ensure that your flooring will not cause any problems in maintaining the optimum conditions in your wine cellar, you must work with a knowledgeable designer and installer like Custom Wine Cellars Orange County CA.
To ensure that your wine cellar flooring is installed correctly, our team of experts will insulate it to help prevent fluctuations in temperature and humidity levels. We do not want moisture build-up to happen because it will damage your wine's quality, as well as the stability of your wine cellar, the cork, and wine labels. 
Work with a Reliable Wine Cellar Flooring 
Manufacturer
 and Installer in Orange County
California
Add an eco-friendly feature to your wine room by choosing one of our flooring options. Custom Wine Cellars Orange County CA will install your flooring correctly using the best material for your needs.  
Are you planning to build a custom wine cellar in your basement, walk-in closet, or under the stairs? Do not hesitate to call us at +1 (714) 798-9858