Have us Call You!
Just enter your name, phone number and/or email address and an expert will contact you

Request a FREE Design!
Have one of our Design Consultants Create a 3D Design for YOU

Showcasing and Preserving your Wine Collection can become a Reality.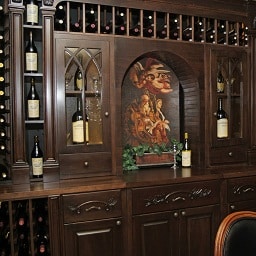 Visit Our Stunning Wine Cellar Designs News Page for the latest in Wine Cellar Construction.
Bella Vita Wine Cellars inspires exceptional creativity and delivers a lifetime of confidence. With more than 9 years of unbeatable experience and expertise, we can turn your dream of a custom wine cellar into a reality and leave a mark in the wine cellar industry.
Teamed with Wine Cellars by Coastal our outstanding services and exceptional wine storage products are available throughout California as well as Arizona, Nevada, and Oregon. Here are some of the many creative possibilities and services we offer for your wine storage solution:
Free consultation
Free 3D drawing of your custom wine cellar design
Variety of wood species to select from
A variety of wine cellar cooling systems to choose from
Custom wine cellar doors
Fulfill that desire for a custom wine cellar and discover what else we can do to manage your wine storage needs. Bella Vita wine cellars are customized to provide more options for expanding and growing your initial collection and investment. A Bella Vita wine cellar will provide you with a one of a kind showcase design as well as maximize your growing wine collection. Nothing is impossible in terms of creating your wine room. Our wine racks and wine cabinets answer your need for semi-custom wine cellar or wine room that will surely fit in with and enhance the interiors of your home.
Wine cellar doors should speak magnanimously well of what it's keeping inside and we are proud to present our own custom wine cellar doors that express exquisite beauty and quality. And because we anticipate and value our customers' needs, Bella Vita Wine Cellars also installs climate controlled systems to maximize the aging process of your precious wines while storing them under appropriate temperature and humidity conditions.
So just remember, there should be a fine line between your dream and its realization. At Bella Vita Wine Cellars, the splendor of your wine display will be revealed in a manner you will surely love. Now that you've chosen us, you are guaranteed not only the fulfillment of your dream cellar but more importantly, wonderful memories to enjoy and share with your family and friends.