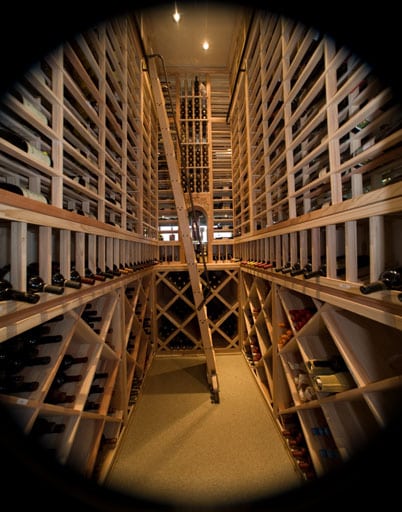 If you're ever been stuck thinking how to begin the process of designing your dream custom wine cellar, then you've clicked the right button and made the right decision to join us in fulfilling that dream through Bella Vita Wine Cellars' ingenious wine storage solutions. Our genuine services will guide you throughout the custom wine cellar design process and even after the project is installed.
Wine Cellar Builders – Essential Elements
For a timeless custom wine cellar, may it be for residential storage or commercial wine display needs, we discuss with you and bring in these essential elements: durable and exceptional custom wine racks, charming and unique wine cellar doors, amiable wine cellar flooring, cost effective wine cellar cooling units, and maybe some unique elements you would like to add to make your own wine cellar statement.
Our Design Package
One of our well-trained and accommodating consultants and our skillful designers will work together to come up with a 3D drawing of your wine cellar design incorporating every single detail you specified – the style, size, space, location, and even your timeline and budget specifications. With the design package we offer, you can rest assured that nothing is left undone; and with your approval of the final design and proposal, we will then begin the process of wine cellar installation.
Ecker Wine Cellar
[easy-media cat="146″ col="4″]
Levine Wine Cabinet
[easy-media cat="148″ col="4″]
Milano Wine Cellar
[easy-media cat="149″ col="4″]
Mital Wine Cellar
[easy-media cat="150″ col="4″]
Monarch Beach Wine Cellar
[easy-media cat="151″ col="4″]
Mora Wine Cellar
[easy-media cat="152″ col="4″]
Newport Coast Wine Cellar
[easy-media cat="153″ col="4″]
Installing Your Wine Cellar
Our custom wine cellars are engineered towards long-lasting superiority and skillfully handcrafted to bring out a more defined structure. Made only from carefully chosen high-quality wood species, our products speak of nothing but the best. Cost-efficiency, durability, beauty – these describe what we, at Bella Vita Wine Cellars, are offering our customers. Here, we let you spend less on your wine storage so you can spend more on your favorite brands of wine, and once we complete and present to you your finished project you'll be able to take in the sight that welcomes you to your brand new custom wine cellar.
Contact us now, call +1 (949) 355-4376 and let us begin fulfilling your dream. It's just a click away!
See some of our wine cellar designs case studies:
Laguna Hills Orange County California Small Custom Wine Cellars Project
Custom Wine Cellar Orange County California Wine Geek Project
Santa Barbara Sea Smoke Winery Custom Wine Cellar California Project