Are you planning to start a wine collection?If so, you must learn the basics for starting one, like having a reliable wine cellar built to store your wines in. Here are a few tips for starting a wine collection in Orange County, California.
Wine Collection Tips for Starters
Wine collecting is a fun hobby, but without the right knowledge, you could simply be throwing money away. You can't go out and buy a bottle of wine and then keep it just anywhere. To be a proper wine collector, you need to do it the smart way. Here are a few basic tips for beginner wine collectors:
1. How Much Are You Willing to Spend?
Wines(good ones, anyway)do not come cheap. If you want to start a wine collection, you need to decide how much you intend to spend on this hobby. A good starting place is about $1000. Of course, you do not need to spend it all at once. Purchase one bottle at a time. There are plenty of good wines on the market that cost around $25 to $30each.
2. What Wines to Buy?
The truth is, there is no rule on what types of wines should be included in your wine collection. Collecting wine is about enjoying wine. Therefore, you need only consider which wines you want to drink. Ideally, a wine collection should be varied; but to start,stock up on the wines that you enjoy the most.
How do you know which wines you will like? Before you start purchasing wines, you need to taste them, to see which ones you like. Avoid purchasing a bottle of wine based merely on the scores or tasting notes, because these are based on someone else's palate, and not yours. If you live in a region with wine tasting rooms, make an appointment with a winemaker. You can also go to public barrel tastings, to check their wines. Another option is to visit local wine stores. Generally they offer tastings, so that you can sample the wines that they have.
A good tip to keep in mind is, should you find a winery that you really love, try joining its wine club or mailing list. Do this with caution, though, because unless you are totally committed and want lots of vintages, you can sometimes get stuck with clinkers. Winery clubs and mailing lists come in handy when you're looking for discounts and great deals. Before wines are bottled, wineries offer discounted "futures." These are upcoming vintages that are sold at 10 to 20 percent below their final bottle cost. If you want to take a chance on a vintage despite not knowing its true bottled character, this can be a good deal.
Other sources of wines on discounted rates and deals include local wine auctions, and the internet. The problem with this is that you can't always be sure of how the wine you ordered was handled. If you buy online, it is very easy to get ripped off. The best option is to buy wines directly from the winemaker. You can also get good deals by buying wines by case, or by taking advantage of sales and end-of-vintage deals.
3. Expand Your Understanding of Your Wines
Gather multiple vintages of a single wine to see how it develops over time, through different winemakers and growing conditions. Obtaining more knowledge about wines can make you geeky. You might annoy your friends with your detailed knowledge of a single wine, but if you are going to be a genuine wine collector, you will want to understand wine better, and not just collect it.
Never stop learning about wine. Keep in mind that the fun in wine collection is not only in the purchase, but also everything that leads up to it. Go and research, read reviews and books, taste, talk, and ask questions. If you know more about a certain wine, the moment you pour it on to a glass, you will be able to enjoy it specially, because you put the time and effort in finding it and learning about it.
4. Where to Store the Wines?
A reliable wine storage solution should never be taken for granted. Wines can only truly be enjoyed if they are kept at the best quality,and this is only possible with the ideal storage conditions that are provided by a wine cellar. If you want to get into the hobby of wine collecting, you must be willing to invest on a good wine cellar. Have a residential wine cellar built, so that you can be ensure that your wines are safe and aging properly.
Coastal Custom Wine Cellars is one of the most trusted wine cellar designers and builders in Orange County, California. They are known for building reliable wine storage solutions with beautiful designs. All of their products are made from quality materials. If you'd like Coastal to design your wine storage room for you, they are willing to provide a free consultation service, with free 3D drawings of your dream residential custom wine cellar. For more information about Coastal Custom Wine Cellars, or their products and services, contact them today at (888) 735-8889!
Also, besides having the wine storage room built, you need to purchase an efficient wine cellar cooling unit. It is the cooling unit that is responsible for producing cool air in order to keep the environment inside the wine cellar suitable for wine storage. Have an HVAC professional determine the appropriate wine cellar refrigeration system for your custom wine cellar.
Coastal Custom Wine Cellars has teamed up with the best in the wine storage industry to provide effective wine storage solutions. One of their partners is US Cellar Systems, a leading wine cellar refrigeration system manufacturer in Orange County, California. They offer various types of wine cellar cooling systems that can meet any wine storage needs. Besides installation services, US Cellar Systems also provides maintenance and troubleshooting services for wine cellar cooling units. For more information about US Cellar Systems, or their products and services, call them at (562) 513-3017!
A beautifully made custom wine cellar in Orange County, California is the best resting place for your beloved wines. Since this is where you'll be keeping your precious wine collection, it is important that you take into consideration each essential factor. A wine cellar has to be planned carefully before it is built. Here are the steps that you need to take when constructing a wine storage room:
1. Decide on How Many Bottles You Intend to Store
More important than having an available space for your wine cellar is how you can maximize it. It is important to consider how many bottles you plan to store in your wine storage room. Basically, you need to estimate how many wine bottles you consume every year. Then, calculate for the average age of the wines that you have now. Multiply these two values. For example, if you consume 300 bottles of wine in one year and the average age of the wines in your collection in 4 years old, then you intend to store 1200 wine bottles.
2. Plan Your Budget
It is a given that you need to spend a considerable amount of money when you have a custom wine cellar constructed. It won't come cheap, but think of it as an investment because you will suffer greater loss if your wines are not stored properly. In order to come up with a reasonable budget for your wine cellar, you need to make a checklist of items needed in a wine cellar and identify which ones are most important to you and which ones you can forego.
3. Consider Carefully Where You Plan To Have The Wine Cellar Built
You can generally choose to have your residential wine cellar built anywhere in your house, but it is very important to consider first whether you want a passive wine cellar or a refrigerated one. Passive wine cellars utilize the temperature of the ground to manage the changes in temperature. These cellars make temperature changes not on a daily basis, but depending on what season it is. Thus, passive wine cellars need to be built in a subterranean basement. Refrigerated wine cellars, on the other hand, can be constructed anywhere in the house. All you need to think about is what wine cellar cooling system will be installed in it.
4. Prepare the Wine Storage Room Properly
There are many things that need to be done in order to prepare a custom wine cellar. You need to have a vapor barrier, a wine cellar refrigeration unit, a well-insulated wine cellar door and wine racks. Consult a wine cellar specialist to make sure that none of these are left out. These play a very important role in making sure that your cellar functions the way it should.
This is one of the most exciting parts of wine cellar construction. In this step, you will have to decide what type of wood you will use for your cellar, what type of racking will you have installed, what lighting you want inside and what paint color you want for your wine cellar room.
Wine cellar refrigeration systems are an essential part of wine storage. Here are a few basic things that you need to know about wine cellar cooling systems:
1. How Important is A Wine Cellar Cooling Unit?
Your residential wine cellar needs to have an efficient wine cellar cooling system installed. A regular, household air conditioning unit cannot provide the required conditions for wine preservation. Only wine cellar refrigeration units can provide the right temperature and humidity inside a custom wine cellar.
2. What are Wine Refrigerators For?
There are various kinds of wines and they need to be stored at differing, respective temperatures. Champagne and other types of bubbly wine need to be stored in a temperature of 43 to 47 degrees Fahrenheit. Red wines, generally, should be stored in 59 to 66 degrees Fahrenheit. Most white wines should be stored in 46 to 57 degrees Fahrenheit. Wine refrigerators are best for individual wine storage. Wine fridges installed inside your home wine cellar will allow you to chill these different types of wines at their appropriate storage temperatures.
3. How to Prepare a Wine Cellar Before Installing a Cooling Unit
The wine cellar refrigeration unit is the most important part of any custom wine cellar. It is important to understand that a wine cellar cooling unit should not be installed without first preparing the wine cellar properly. To ready a wine cellar for the installation of a cooling unit, make sure that the interior walls of the wine room are covered with at least R11 insulation. The outside of the walls should be covered with at least R19 insulation. The walls should also have a vapor barrier. Vapor barriers, also called moisture barriers, are made of polyethylene plastic sheeting. These are installed on the warm side of the cellar walls, to prevent condensation and mold formation.
The wine cellar flooring also needs to have vapor barriers. If your cellar floor is made of concrete, you need a vapor barrier with concrete sealant. All kinds of wine cellar flooring need a vapor barrier and R19 insulation.
The Different Kinds of Wine Cellar Refrigeration Units
a. Through the Wall Wine Cellar Cooling Unit – This is the type of cooling unit that is simply mounted on the cellar wall. The exhaust of this cooling system is released into an adjacent room. It is recommended that this adjacent room is air conditioned, so that the exhausted heat may be dissipated.
b. Ductless Split Cellar Cooling System – This cooling system is similar to the through-the-wall unit; the difference is that its evaporator coil remains in the room with a split cooling unit, while its condenser is in another room or outside the house. This type of cooling unit needs a drain for its excess condensation.
c. Ducted Wine Cellar Refrigeration Unit – You can opt to mount this kind of cooling system on your cellar wall or have it fully ducted into and out from the custom wine cellar and an adjacent room.
Storing wine is no easy task. The conditions required to store wine are very specific. The temperature cannot be not too warm, but also not too cold. The humidity of the wine storage room should be not too dry, but also not too wet. The good news for wine enthusiasts is that technology has made equipment available to us that can provide the right conditions for proper wine storage. Wine cellar cooling units are the key to allowing your wines to age tastefully as they are stored in a custom wine cellar in Los Angeles.
Learn more about wine storage by becoming knowledgeable on these wine cellar cooling unit facts:
FACT 1: BALANCED HUMIDITY
The ideal humidity for the proper storing of wines is between 60 to 70 percent. If the wine cellar room gets more humid than this, the wine bottle labels can get ruined by mold formation. If the humidity in the custom wine cellar goes below this range, the corks may dry out, and air will then seep into the bottle and ruin the wine.
One tip to keep in mind if you need to increase the relative humidity (RH) inside your residential wine cellar is to increase the FON setting on the control panel of your wine cellar cooling unit. CellarPro wine cellar cooling units have this option. You may also increase the fan speed on the cooling unit if your model has that option.
FACT 2: AVOID CONDENSATION
Ideally, your custom wine cellars in Los Angeles, CA should be built with an airtight seal. In order to achieve this, good insulation has to be installed, along with a moisture barrier. Without these, your wine cellar refrigeration system will create a ton of condensation.
One way you can minimize the amount of condensation on your evaporator coils is by increasing the FON setting of your wine cellar cooling unit. CellarPro units have this option. Condensation can also be reduced by increasing the fan speed of your cellar cooling unit. Selected CellarPro models have this option.
FACT 3: STORING TEMPERATURE VS. SERVING TEMPERATURE
The best serving temperature for wine is different than its storing temperature. Ideally, wine should be stored in a residential wine cellar in CA that has a temperature within 55 to 60 degrees Fahrenheit. Serving temperature, on the other hand, varies from one wine to another. Champagnes and other types of bubbly wines are best served at a temperature that is within 40 to 44 degrees Fahrenheit. White wines should be served at 45-49 degrees Fahrenheit. Red wines should be served at 50-55 degrees Fahrenheit.
You may lower the temperature of your wine cellar cooling unit to achieve serving temperatures by lowering the minimum setpoint. In a CellarPro wine cellar refrigeration unit, you first change the LS and ALL parameters on the control panel. There are step by step instructions on how to do this; contact CellarPro Cooling Systems to obtain them.
FACT 4: QUALITY WINE CELLAR COOLING UNIT
Through-the-wall wine cellar cooling systems like the CellarPro 1800 Series are the best kind of wine cellar cooling units. They are self-enclosed, fully charged and easy to install.
US Cellar Systems has various options of wine cellar refrigeration units for you to choose from. The best way to identify what cooling unit is best for your home wine cellar in Los Angeles is to have a professional calculate the heat load inside the storage room.
Wine lovers and wine collectors alike know how important it is to store wine in the right conditions, which preserves its quality. The basic necessities for proper wine storage include a well-built custom wine cellar in Orange County, CA and the right wine cellar cooling system. Without these two things, it is very difficult to make sure that wine ages tastefully.
When it comes to wine storage, there are a few common problems that must be solved in order to keep wines at their best. Here are a few of the most common issues concerning wine storage:
1. Exposure to Light
Wine should not be exposed to ultraviolet (UV) light. UV light damages wine by destroying the organic compounds in it. Consequently, the flavor of the wine is ruined. Wines should be kept in a room that is dark and far away from any UV light source. This is also the rationale behind dark colored wine bottles.
To protect your wines from UV light, you should first make sure that your custom wine cellar is located away from sunlight and also avoid the use of fluorescent lights inside the wine storage room. Some people keep their wines openly in the kitchen. This is a bad idea, because kitchens usually have fluorescent lights all around.
2. Too Much or Too Little Humidity
Both the increase and the decrease in the level of humidity is detrimental to the quality of your wines. The humidity inside a custom wine cellar in California should be kept within 60% to 70%. When the wine storage room becomes too humid, wine labels can be damaged, and mold and mildew can also form. Consequently, your wines can get contaminated. On the other hand, if the humidity drops, the wine corks can shrink and cause air to get inside the wine bottle, ruining the wine.
This is the reason most wine bottles these days no longer use the traditional cork seal, but instead have used synthetic corks and screw tops. The traditional cork seals are found to be ineffective in keeping wine bottles closed and protecting wine.
To keep the quality of your wines, the wine corks should be kept moist. The simple solution is to keep the wine bottles lying sideways on the custom wine racks. This position not only saves space, but also makes sure that the corks are moist and will not shrink. A good wine cellar refrigeration unit is also needed so that the humidity in the wine storage room is kept at the ideal range, with minimal to no fluctuations.
3. Fluctuating Temperature
The most important variable in storing wines is temperature. Although sources vary on the exact temperature to store wines, most agree that it is somewhere between 55 to 60 degrees Fahrenheit. Also, there should be no fluctuations in the temperature level. Keeping the temperature from fluctuating is a common problem.  Primarily because of changing weather, keeping the temperature in the ideal range requires extra effort.
Of course, a quality wine cellar refrigeration system is the best solution to this. If you do not have a wine cellar with a cooling unit, then consider getting a wine fridge. Wine fridges or wine chillers are not cheap either, but they make a good, less expensive alternative. Not only will a wine fridge manage temperature, it will also control the humidity, and protect your wines from ultraviolet light.
Wine Cellar Cooling  Question – Can A Wine Cellar Climate Control System Be Added After Construction (A Processed Video Transcription)
Wine Cellar Cooling Systems – Is it Ideal to Add Them After the Wine Cellar Construction?

.

Hi, Irene, this is Jerry with Coastal Custom Wine Cellar Climate Control.  I wanted to share some information that pertain to your question by email on whether or not wine cellar cooling units are included in wine cellars, or if they can be added after the wine cellar construction is completed and wine racks are installed.  The answer to that question is indeed both of those scenarios have taken place, but it's very important that a wine room be prepared properly before a cooling system is added to the wine room.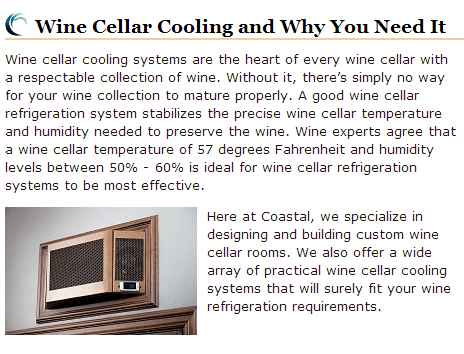 There's a PDF attachment that Tim should send you it's titled 'How to Construct a Wine Cellar' and we're actually looking at this wine cellar construction PDF now.  All the walls and ceilings must be scaled with a vapor barrier on the warm side.
The warm side, if you look at this cross section here of a wall, will be the exterior wall or the hot side of the wine cellar; the wine cellar being the cold side or the interior wall here.  Within the wall cavity itself, a vapor barrier must be placed on the hot side.  This stops warm air and moisture from entering the wine room or the wall cavity, and then ultimately the wine room and stops the moisture.
If there's no vapor barrier, moisture will creep through the wall cavity through the building materials and ultimately into the wine room where it will come into contact with cool air and thus condensation will form.  It will form in the wall cavity itself causing some problems with mold and mildew over time.
In the wine room itself condensation could actually form on the bottles, in the corners, on the paint, on the door hardware, and on any glass structures that are in there like a window maybe.  This is very, very important.
The insulation factor that you see here in the middle, which is on the cold side of the vapor barrier, helps retain or keep the cool air in the wine room, as any typical insulation to a home or a business would.  I think if you read through this, you will find different ways that these wall cavities can be prepared with vapor barriers and insulations.
There's actually two ways.  There's the old school way where a 6 mil or 8 mil plastic sheeting is used; and there's also a more modern technology, it's a blow in foam expanding insulation that a contractor would actually blow into the wall cavity.  It'll expand, dry, and it is a far more accurate or better way, I should say, although it is a little pricier.
I'm here for any of your questions regarding wine cellar cooling Los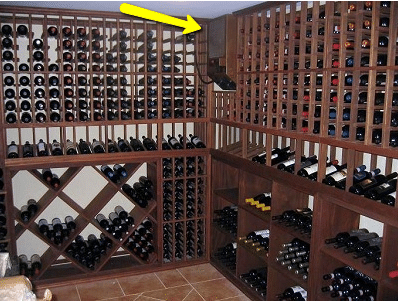 Angeles California.  By the way, I wanted to let you know that sometimes folks don't add wine cellar cooling units at all.
People in the northeast or in any cold climate, and especially if they are in basements or below ground level, it's typically very cool and appropriate temperatures, so wine cellar climate control units may never actually be added.  This is referred to as a passive cellar or it is either naturally cooled or the collector has decided not to cool the wine room for whatever reason.
Just to summarize, it is very important that a wine room be prepared properly for refrigeration.  Even if you don't add the wine cellar cooling unit during the course of wine cellar construction, it's very important that the wine room itself be prepped properly, so that later down the road the client decides to add a cooling unit, he doesn't have to tear out the walls and start from square one.
Again, if you have any questions, you may call or send an email.  Cheers!
Wine Cellar Cooling Units – Part One – Self Contained Systems – Processed Video Transcription
Self-Contained Wine Cellar Cooling Systems
.
Hi and thanks for visiting Coastal Custom Wine Cellars.  This is the first of a three part video series that I hope will help you better understand the topic of wine cellar refrigeration.  There are three ways to cool a wine cellar.
The first which we are discussing today will cover self-contained wine cellar cooling units California.  As you can see, there's a picture of a cooling unit mounted within a framework of some wine racks here.
This is a slim line and they are designed for smaller rooms in the neighborhood of 500 cubic feet.  The
overall depth of these products is approximately 13," so they're going to fall well within the confines of the racking for you as well.  Because warm air rises, it is necessary to place the cooling unit as high as possible on the wall, about 6" shy of the ceiling would be fine.
If we take a look at the illustration, this gray area is the wine cellar and this self-contained wine cellar cooling unit mounts high on the wall.  It actually mounts through the wall, so you make an opening just slightly larger than the physical dimensions of the cooling unit, place it in the wall, seal around the perimeter, and plug it in and you're ready to go.
The unit will exhaust the warm air it creates as well as fan noise into an adjoining room.  A good rule of thumb is, these adjoining rooms need to be at least the same size and hopefully larger than the actual wine cellar itself.
If you vent the hot air into a small confined area, the cooling unit is going to heat up.  It's not going to perform effectively or efficiently for the wine room.  It is very likely to blow warmer air into the wine cellar itself.  Unfinished portions of the basement, mechanical rooms, furnace rooms, garages, even outdoors are great spots to send the hot air.
But if you install the cooling unit on an exterior wall, be sure the model you choose can deal with the seasonal temperatures of your area.  Most manufacturers have models that will operate in temperatures ranging from 40 degrees to 105 degrees rather easily.
Thanks for taking a few minutes.  We're standing by 7 days a week to address any questions and to help you decide on the best solution for your wine cellar.  Cheers!
Visit our website now for inquiries and assistance!