What Should You Know about Coto de Caza Golf and Racquet Club?
The addition of a sophisticated wine enclave to a commercial layout can greatly enhance the aesthetic quality of the space.  It will provide proper climate conditions for storing and showcasing different varieties of wines.  A perfectly designed and constructed wine cellar will not only provide the maximum wine storage capacity, but also ease of bottle identification.
Coastal Custom Wine Cellars recently finished installing a wine cellar in one of Southern California's finest country clubs.  The project involved creating a climate controlled wine storage space that can hold a total of 1,380 bottles.  The Coto de Caza Golf and Racquet Club wine cellar measures 11' wide, 2' deep, and 9' tall, and features seamless ½" tempered glass walls, as well as floor to ceiling metal wine racking.
The Coto de Caza Golf and Racquet Club is a private 36-hole country club located in Orange County, California.  The country club has a 44,000 square foot clubhouse that can host wedding receptions, business meetings, and other private events.  The club recently added a spa and sports club building that houses a fitness center and a full-service spa.
What are the Design Features of the Coto de Caza Golf and Racquet Club Wine Cellar?
The Wine Rack Display
A wine rack display is an important component of cellaring wines.  They are designed to provide space for storing, organizing, and displaying wine collections.  Vintage View metal wine racks are the racking of choice for the Coto de Caza Golf and Racquet Club wine enclosure project.  This metal wine rack display creates a stunning showcase of different wine labels, and at the same time complements any contemporary-themed interior.
Vintage View metal wine racks are designed to facilitate a label forward orientation of wine bottles.  This feature promotes ease of product recognition, allowing for quick perusal and selection of wine labels.  In addition, a horizontal placement of bottles helps secure the cork's sealing quality, by maintaining constant contact with the wine.
The wine rack display design for the clubhouse consists of label forward horizontal display,, in a three deep configuration.  Triple depth wine racks can accommodate three bottles laterally, increasing the total bottle capacity of the wine enclosure.  A presentation row that runs the length of the wine racking system provides a slightly tilted area, where the finest wine bottles are put on display.
Tempered Glass Panel
The Coto de Caza Golf and Racquet Club wine cellar is enclosed in seamless 1/2″ tempered glass panels, providing a striking view of the wine storage room's interior from different angles.  Tempered glass is ideal for all kinds of applications, since the material is built with safety and strength in mind.  This glass minimizes the risk of injury, because it is designed to shatter into circular pebbles rather than jagged shards.
One can access the different wine bottles through three sets of glass doors.  Commercial duty pivot hinges with self-closing features are used to mount the heavy doors.
The Wine Cellar Cooling System
For the Coto de Caza Golf and Racquet Club wine cellar project, Coastal Custom Wine Cellars installed a wine cellar cooling system that was designed and manufactured by Wine Guardian, out of New York.  The model D088 is a self-contained, fully-ducted air handler system, that can efficiently cool an area from 1,500 to 6,000 cubic feet.
The proper wine storage temperature for optimum aging is between 50°F and 59°F, with humidity levels kept within 50% to 60%.  A wine cellar cooling system is designed to help maintain constant temperature and humidity levels, allowing wines to age to their full potential.  A heat load calculation is usually conducted to determine the right cooling unit for a particular wine enclave.
This climate control system can be located in any indoor area outside the wine room, and can be ducted 25 feet away from the enclosure.
This setup results in an ultra-quiet wine storage environment without any visible equipment in the cellar.
For this particular wine cellar project, the cooling unit is mounted inside the ceiling.  Ductwork is used to supply cold air to and from the enclosure, and exhaust hot air to the outdoors.
About Wine Guardian
Wine Guardian is the world's leading manufacturer and provider of commercial grade quality wine cellar cooling solutions.  Their cooling products are engineered to provide reliable and efficient cooling, as well as vibration-free and whisper quiet operation.  They offer through the wall units, split cooling systems, and ducted units.
The Coto de Caza Golf and Racquet Club wine cellar was a successful project altogether.  Coastal Custom Wine Cellars was able to create a custom-designed wine storage facility that blends well with the interior décor of the clubhouse's Preserve Dining Room, and at the same time provide ample storage space wherein club members can show off their favorite wine labels.
Typically, people just stack bottles of wine on a counter top or have them cooled in the chiller; but, in actuality, wine requires the correct storage settings, and a common kitchen cupboard or refrigerator is not enough.
During wine cellar construction, you should focus on functionality, while making up your mind on the many things to be considered during brainstorming wine cellar design ideas.
How often do you want to stay in your wine cellar?
How do you want the space to look?
Do you intend to receive guests in your wine room?
These and a lot more questions are significant to your wine cellar design.  One option to properly house your wine collection is in your basement, which is just perfect for a wine cellar renovation.  Here are some tips on how you can convert and have your very own custom wine cellar.
Control the Setting
Invest in a wine room with a wine cellar cooling system.  This system type keeps a constant and perfect balance between the humidity and the temperature, which other conventional systems do not do.
If you want your wine to maintain its full flavor through time, you should invest in methods for your wine cellar temperature control.
Temperature is inarguably among the most important factors to consider when thinking of wine cellar design ideas, because it can greatly affect the quality of wines.
If the temperature gets too warm, wine will age at a faster rate, which will adversely affect its flavour and taste.
Also, a temperature that's too warm increases the pressure inside the wine bottle, which will cause the wine to lose its gleam.
Add Proper Insulation
Aside from wine cellar refrigeration systems, you can also maintain the wine cellar temperature through insulation.  However, you need to consult a professional to assess your geographic position and what type of insulation is needed for your custom wine cellar in your location.
Maximize the Space
You don't need to convert the whole room into a custom wine cellar. If you're short on space, consider renovating a designated area. If you have signed a contract with a company for the wine cellar construction, add in your own wine cellar design ideas from the beginning of the project, so the professionals will know what you want, what you need, and what fits in your budget.
Also, don't forget to furnish them the dimensions of the room or just a part of the room to renovate into a wine cellar. This should include the width, the height, the floor area and the doors.
Decide on the Overall Look
Include in the design for your renovation the wine cellar accessories to use. If you want a contemporary aesthetic, opt for stainless wine cellar supplies. On the other hand, a natural finish is also a good idea. For this, pick wine cellar accessories made of wood, such as walnut, cypress or mahogany.
Don't Forget the Lighting
For cost-effective lighting, pick bulbs with standard line-voltage tracks. They're also dimmable with the use of a standard dimmer, and the light quality is close to that of a halogen lamp.
Invest in Wine Cellar Accessories
Aside from racks, you will also need wine cellar supplies and equipment that will organize and regulate your wine room.
For humidity regulation, install a humistat during wine cellar construction. This de-humidifier will regulate your wine cellar's relative humidity. Conversely, you also need a hydrometer paired with it to read and measure the relative humidity, to make it easier for you to control and set the standard humidity for your collection.
To regulate light, you will need an overhead lighting fixture, so you can see when you are in your custom wine cellar. Opt for a softer light, like incandescent, rather than using fluorescent, to minimize the disturbance to your wine collection.
To control the temperature, install an AC or heating unit and a thermostat during the wine cellar renovation, especially if you are located in an area with volatile climate.
To avoid any odor from penetrating the corks and ruining your wines, make sure that during wine cellar renovation the area will be well-ventilated. Regulating the temperature will keep the air moving, while a fully ventilated storage area with vents and fans will regulate airflow into a wine cellar.
Other wine cellar accessories that you may need are a decanter or aerator for your red wines and a wine air removal pump or stopper for corking of unfinished bottles so they do not stale. If your collection increases, or if you plan on increasing it, consider having a foil cutter, a wine tote for travel, a drip ring to avoid spoilage when pouring, and a wine cooler sleeve or bucket, maybe made of marble or stainless steel, for the table.
A beautifully made custom wine cellar in Orange County, California is the best resting place for your beloved wines. Since this is where you'll be keeping your precious wine collection, it is important that you take into consideration each essential factor. A wine cellar has to be planned carefully before it is built. Here are the steps that you need to take when constructing a wine storage room:
1. Decide on How Many Bottles You Intend to Store
More important than having an available space for your wine cellar is how you can maximize it. It is important to consider how many bottles you plan to store in your wine storage room. Basically, you need to estimate how many wine bottles you consume every year. Then, calculate for the average age of the wines that you have now. Multiply these two values. For example, if you consume 300 bottles of wine in one year and the average age of the wines in your collection in 4 years old, then you intend to store 1200 wine bottles.
2. Plan Your Budget
It is a given that you need to spend a considerable amount of money when you have a custom wine cellar constructed. It won't come cheap, but think of it as an investment because you will suffer greater loss if your wines are not stored properly. In order to come up with a reasonable budget for your wine cellar, you need to make a checklist of items needed in a wine cellar and identify which ones are most important to you and which ones you can forego.
3. Consider Carefully Where You Plan To Have The Wine Cellar Built
You can generally choose to have your residential wine cellar built anywhere in your house, but it is very important to consider first whether you want a passive wine cellar or a refrigerated one. Passive wine cellars utilize the temperature of the ground to manage the changes in temperature. These cellars make temperature changes not on a daily basis, but depending on what season it is. Thus, passive wine cellars need to be built in a subterranean basement. Refrigerated wine cellars, on the other hand, can be constructed anywhere in the house. All you need to think about is what wine cellar cooling system will be installed in it.
4. Prepare the Wine Storage Room Properly
There are many things that need to be done in order to prepare a custom wine cellar. You need to have a vapor barrier, a wine cellar refrigeration unit, a well-insulated wine cellar door and wine racks. Consult a wine cellar specialist to make sure that none of these are left out. These play a very important role in making sure that your cellar functions the way it should.
This is one of the most exciting parts of wine cellar construction. In this step, you will have to decide what type of wood you will use for your cellar, what type of racking will you have installed, what lighting you want inside and what paint color you want for your wine cellar room.
Storing wine is no easy task. The conditions required to store wine are very specific. The temperature cannot be not too warm, but also not too cold. The humidity of the wine storage room should be not too dry, but also not too wet. The good news for wine enthusiasts is that technology has made equipment available to us that can provide the right conditions for proper wine storage. Wine cellar cooling units are the key to allowing your wines to age tastefully as they are stored in a custom wine cellar in Los Angeles.
Learn more about wine storage by becoming knowledgeable on these wine cellar cooling unit facts:
FACT 1: BALANCED HUMIDITY
The ideal humidity for the proper storing of wines is between 60 to 70 percent. If the wine cellar room gets more humid than this, the wine bottle labels can get ruined by mold formation. If the humidity in the custom wine cellar goes below this range, the corks may dry out, and air will then seep into the bottle and ruin the wine.
One tip to keep in mind if you need to increase the relative humidity (RH) inside your residential wine cellar is to increase the FON setting on the control panel of your wine cellar cooling unit. CellarPro wine cellar cooling units have this option. You may also increase the fan speed on the cooling unit if your model has that option.
FACT 2: AVOID CONDENSATION
Ideally, your custom wine cellars in Los Angeles, CA should be built with an airtight seal. In order to achieve this, good insulation has to be installed, along with a moisture barrier. Without these, your wine cellar refrigeration system will create a ton of condensation.
One way you can minimize the amount of condensation on your evaporator coils is by increasing the FON setting of your wine cellar cooling unit. CellarPro units have this option. Condensation can also be reduced by increasing the fan speed of your cellar cooling unit. Selected CellarPro models have this option.
FACT 3: STORING TEMPERATURE VS. SERVING TEMPERATURE
The best serving temperature for wine is different than its storing temperature. Ideally, wine should be stored in a residential wine cellar in CA that has a temperature within 55 to 60 degrees Fahrenheit. Serving temperature, on the other hand, varies from one wine to another. Champagnes and other types of bubbly wines are best served at a temperature that is within 40 to 44 degrees Fahrenheit. White wines should be served at 45-49 degrees Fahrenheit. Red wines should be served at 50-55 degrees Fahrenheit.
You may lower the temperature of your wine cellar cooling unit to achieve serving temperatures by lowering the minimum setpoint. In a CellarPro wine cellar refrigeration unit, you first change the LS and ALL parameters on the control panel. There are step by step instructions on how to do this; contact CellarPro Cooling Systems to obtain them.
FACT 4: QUALITY WINE CELLAR COOLING UNIT
Through-the-wall wine cellar cooling systems like the CellarPro 1800 Series are the best kind of wine cellar cooling units. They are self-enclosed, fully charged and easy to install.
US Cellar Systems has various options of wine cellar refrigeration units for you to choose from. The best way to identify what cooling unit is best for your home wine cellar in Los Angeles is to have a professional calculate the heat load inside the storage room.
Small wine cellars in a modern home hold significant value for wine enthusiasts and homeowners.
It provides a controlled environment for storing wines at optimal temperatures, safeguarding their quality and taste.
Moreover, it grants easy access to a curated wine collection, enhancing entertainment experiences and impressing guests.
The cellar also acts as an investment, as wine tends to appreciate with age. Organizing and displaying the bottles can add a touch of sophistication to the home's decor.
Overall, this compact addition elevates the lifestyle of wine lovers, fostering a sense of pride in their passion and enhancing the overall appeal of the dwelling.
Recently, a client in Newport Beach, Orange County, reached out to our wine cellar specialists, Coastal Custom Wine Cellars and Bella Vita Wine Cellars, to design a modern wine wall in the limited space at their home.
Let's read along and get enticed by this stylish wine cellar project!
Modern Wine Wall Styles and Placed in a Narrow Hallway in Orange County
Our expert wine cellar builders in Orange County strive to install wine cellars with the overall house design and architecture.
In this particular house, the exterior boasted a classic off-white look with rough cladding and glass block windows, reminiscent of colonial homes.
However, stepping inside revealed a contemporary and luxurious interior, complementing the breathtaking area views.
This small wine cellars in a glass bring a vibrant and refreshing ambiance to the home interior. With this project, it features black and white tones on the floor, ceiling, and walls, with some rooms adorned with Wainscot paneling.
The touch of metal elements in the furniture and large glass windows adds to the modern feel. These windows provide a view of the house's backside, which includes an infinity pool and an outdoor lounging area secured by a glass railing.
Since many rooms already boasted striking designs, the team decided to place the cellar in an empty white hallway, offering uninterrupted views of the owner's wine collection. They opted for a modern yet minimalist design, blending seamlessly with the hallway's simplistic look. A glass wine cellar door, metal peg wine racking system, and modern LED lighting completed the desired style.
A Wine Cooling System Chosen for Small Wine Cellars
Given the limited space, a split-type cooling system proved ideal for the small glass wine cellar, holding approximately 160 wine bottles.
To ensure sufficient cooling for each bottle and uninterrupted operation, a ducted, commercial-grade air conditioning unit was chosen. The added benefit of humidity controls negated the need for a separate humidifier, streamlining the setup.
The cooling system boasted a control panel for temperature and humidity regulation, conveniently placed outside the cellar.
This way, adjustments and monitoring could occur without disrupting the cellar's environment. The user-friendly control panel featured tactile sensors for easy operation.
To optimize air distribution, the air duct was discreetly positioned on the wine cellar's ceiling. Aesthetically, it blended seamlessly by concealing beneath a black-painted, union jack metal grille, maintaining the cellar's visual harmony.
Metal Wine Racks for Space-Savvy Wine Lovers
Metal racking systems outshine wood in durability, making them ideal for tight spaces while exuding style and elegance. Metals resist rotting, ensuring a long-lasting solution.
The designers for this project fixed metal wine racks to a dark wall, illuminated with soft, modern LED backlighting, creating a striking modern understairs wine cellar visible to guests in the hallway, enhancing the luxurious ambiance of the house.
The hallway's narrow width allowed racks on one side, optimized to hold three wine bottles for every two pegs, providing space efficiency. Customizable peg arrangements suit various small modern wine cellars.
The metal pegs alone held an impressive 159 bottles. A chic metal display box at the rack's center highlighted the owner's favorite wines, accommodating three large bottles. For added flair, a small mirror wall reflected light within the enclosure.
Take a closer look at this simple, sophisticated set of images:
Racking systems serve both functional and design purposes, elevating any wine cellar's aesthetics. With Bella Vita Wine Cellars and partners, expect meticulous planning and the perfect wine racks for every home cellar.
How Our Experts Design Minimalist, Small Wine Cellars Like This One in Newport Beach
The architecture of this lovely California home embraces a classic colonial wine cellar design, symbolizing the essence of a timeless American abode. Our expert team aimed to infuse this elegant modern glass wine cellar with enduring charm, ensuring it remains beautiful, alluring, and sophisticated for years to come.
A timeless design transcends ever-changing trends, promising lasting appeal. To achieve this, the design consultants skillfully blended traditional and modern elements, harmonizing with the hallway's minimalistic theme.
They maintained the corridor's flooring and walls visible inside the cellar, preserving the minimalist ambiance. A frameless glass door allowed unobstructed views, showcasing the enchanting blend of wood, metal, cement, and glass elements.
This project exemplifies a flawless, modern, and simple yet sophisticated wine cellar destined to withstand the test of time.
Transform Your Extra Home Space Into A Small Wine Cellar with Bella Vita Wine Cellars!
For years, Bella Vita Wine Cellars has been passionately crafting extraordinary wine cellars across Orange County, California. As avid wine enthusiasts, we possess extensive knowledge of wines and the ideal conditions for their preservation.

Let our expertise guide you in creating your own custom modern wine cellar, regardless of size. We'll recommend the most suitable cooling, lighting, and insulation solutions to complement your design.

Aside from Newport Beach, if you're located in Costa Mesa, Irvine, San Juan Capistrano, Surfside, Corona del Mar, Dana Point, Rossmoor, San Clemente or in a nearby city in Orange County, our team can assist you in modern wine wall for your home.

Reach out to our wine cellar designers today at +1 (714) 798-9858 and embark on an exceptional wine cellar journey!

More and more people are getting into the hobby of collecting wine. This is especially true among those who like to travel. As they visit places in the world that are renowned for local wineries, they often take bottles of wine home with them, to serve as reminders of their memorable trips.

As a wine collection grows, it is inevitable that people will start to consider the need to have a custom wine cellar built in their own homes.

Here are a few things you need to learn about custom wine cellars:

The Function of Custom Wine Cellars in Orange County, California

The basic function of a wine cellar is to protect your wines from damage. A good wine cellar is able to provide the ideal conditions for proper storage of various kinds of wines. Wines need to age gradually, and an ideal environment is necessary so that its flavors, undertones and aromas may develop tastefully. Proper wine storage is the key to good tasting wine.

Ideally, wine should be kept in a temperature of 50-55 degrees Fahrenheit with a humidity of 60-75%.

Custom wine cellars in Orange County, California vary in sizes. The biggest wine cellars can hold up to 50,000 bottles of wine. You do not necessarily have to own a huge wine cellar. It all depends on how many wines you intend to collect, the available space you have in your house and the budget you have at hand.

If you do not have enough space at home, you might want to consider wine storage cabinets. These come in various sizes to fit different kinds of homes. These cabinets require a plug in order for them to provide the ideal conditions necessary for proper wine storage.

What You Need When Building a Custom Wine Cellar?

Budget is one of the essential needs for building a wine cellar. A custom wine cellar may be costly, but those who truly value wine understand that having a custom wine cellar built in your home in Orange County, CA is a wise investment.

Some people think that wine cellars have to be built in a basement area or somewhere excavated from a foundation. The truth is, custom wine cellars in California can be built in almost any space available in your house. It can be in an empty bedroom or even in a large closet.

Learn About A Few of the Best Wood Species For Custom Wine Cellars

Custom wine cellars will house your beloved wines. They must be beautiful and durable. The beauty and strength of your custom wine cellars depends on what wood specie is used in making them. Here are a few of the best custom wood cellar choices that you can select from:

Prime Mahogany

 

Prime Mahogany is a wood specie that is reddish brown colored, and is one of the best wood types grown in Southeast Asia. This wood specie looks beautiful unstained, but readily absorbs stains and finishes, should you opt to apply them. Besides its elegant color, Prime Mahogany has a classic mahogany grain pattern. Applying stains and finishes will accentuate it.

Prime Mahogany is a good choice for custom wine cellars, because this dense hardwood is resistant to rotting, shrinking, warping, decay, checking and infestation.

 

Amber Blaze Mahogany

Amber Blaze Mahogany is another good choice of wood specie for custom wine cellars, because it is a very dense, hard and heavy type of wood. It has a distinctly dark reddish brown color. Because of this color, wine cellars made from this wood specie have a luxurious appearance.

 Premium Redwood

Another good wood choice for your custom wine cellar is Premium Redwood. This type of wood is grown in the cool, damp forests of Northern California. Because of the climate where it is grown, it is naturally resistant to a cool and humid environment akin to that within a wine storage room.

Premium Redwood comes in a variety of colors, ranging from white, to pink, to red and reddish brown. It also is a type of wood that has an open-celled structure, and has very little to no pitch or resins. These characteristics enable this type of wood to absorb and retain all kinds of finishes.

Premium Redwood is very durable. It is resistant to shrinking, warping and checking.

 

Clear All Heart Redwood

Clear All Heart Redwood is a type of Redwood grown in the cool, damp forests of Northern California. This type of wood is a good choice for custom wine cellars, because it is very resistant to rot, mildew and insect infestations. As the tree from which this wood comes from grows, it absorbs minerals, which give it its reddish brown tones and make it highly resistant to decay. Clear All Heart Redwood is so durable that it can last thousands of years.

Clear All Heart Redwood comes in a variety of colors that range from pink, to red, to dark brown with reddish overlay. This type of wood will age beautifully, even without stains or finishes. Its colors grow darker in depth through time.

 

Rustic Pine

Rustic Pine is another good choice for building custom wine cellars. This type of pine grows all throughout North America. It has a distinct soft and creamy color, and has subtle streaks and structurally sound knots. Custom wine cellars made from Rustic Pine have a rustic architectural appearance.

Rustic Pine comes in a variety of grain patterns, which are emphasized when dark stains are applied. The variations become even more pronounced if a lacquer finish is added. Rustic Pine efficiently absorbs and retains all types of finishes.

Design & Build Custom Wine Cellars St. Louis Missouri Proj

See more wine cellar design videos by Bella Vita and Coastal Custom Wine Cellars
Wine Cellar Design Processed Video Transcription
Hi! My name is Jerry Wilson, I'm the founder of Coastal Custom Wine Cellars. I'd like to take you on a tour of one of our 3 dimensional design package for this new custom wine cellar in St. Louis Missouri.
This is a recent project that we completed in July 2012. Our client was looking for maximum capacity and a kind of fusion of modern and traditional wine cellar appearances. It is a difficult thing to do with wood, making it contemporary but to add to the characteristics of the wine room, we included as you'll see in the pictures that I will share here with you, a full glass, a seamless glass, fixed wall on entry for a really stunning visual as well.
The walls are labeled, elevations A and B, and here's the front wall which is a fixed glass. Elevations B are the left side and right side wall, and they are mirror images of each other. We kept clean, simple balance and symmetry to this wine room. We did not want to do anything to over the top as we are trying to keep the dimensions simple and with modern appearance.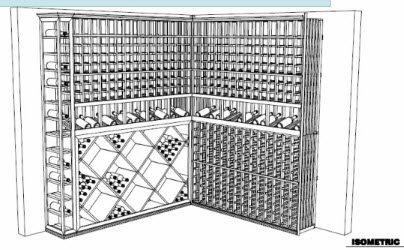 Single bottle storage above a high reveal display row which is illuminated by LED lighting and then we some bulk storage in the diamond areas here. The back wall we kept simple, with just single bottle storage and high reveal display, and as you can see in the 3D visuals you get a little bit better idea on how everything comes together.
Notice this left column here and this right side column, these are label forward horizontal displays and it added a nice touch from as far as the visual from outside of the custom wine cellar. This wine cellar being just 7 feet by 7 feet with a 7-foot height can house 926 bottles.
We utilized CellarPro 4200 wine cellar refrigeration unit and we use some cooperage from oak barrel wine barrels from Napa Valley. I'll show some pictures of that as well.
As you can see, the left side here and the right side of the label forward horizontal displays, we did it to capture some modern appearance, somewhat modern and contemporary beautiful wine cellar.
If you remember, we talked about the wine cellar refrigeration. We used the CellarPro 4200 with remote display where you can see the LED display in the control and there is no visible equipment in the wine room.
Typically, the CellarPro systems are self-contained, through-the-wall systems that are actually visible in the wine room. But in this case, we opted to include a rear ducting kit and a front ducting kit. What these enable us to do was to eliminate the presence of a cooling unit in the wine cellar.  It's actually placed in the ceiling, above the ceiling I should say. The cold air is ducted to and from the wine room and the hot air exhaust is not set to the adjoining area of the home. It's actually ducted to the outdoors.
The wine cellar flooring as you can see is rather unique. This is made from 10-year old Napa Valley oak barrels. We utilize the cooperage series. These are actually made from the top of the barrels that are actually branded by the wineries for identification purposes. It is a very simple tongue and groove installation just like any wood flooring. It will really make a nice statement.
If you have a home custom wine cellar design project, we'd be happy to help you.
Please contact us directly at +1 (949) 355-4376. Cheers!