Custom Wine Cellars Orange County All Glass Contemporary – A Processed Video Transcription

Custom Wine Cellars Orange County All Glass Contemporary

.

Here is a project in Newport Beach, started and completed in 2014.  The room is roughly 16 feet wide, by 5 feet deep, by 9 feet high.

A unique aspect of this custom wine cellar is that the customer wanted all glass front.  They also wanted a fully ducted system.  However, there is not sufficient attic space to have such a system.

In the wine cellar design, the customer requested a mix of traditional wine racking with a modern feel.  The traditional wine racking here will be a Sapele Mahogany with a walnut stain mixed with a modern stainless steel rod for all of these horizontal displays throughout the wine cellar design.

Here's a wine cellar cooling system that will cover a 10,000BTU SLD Slimline Coil.  As you can see in the wine cellar design, we have full pull out case storage here.  We also decanter and other display as well as an archway.

We have a mirror behind.  Solid diamond bins are on the right hand wall.  Here's a picture of the SLD wine cellar cooling system, without the cover.

One of the nice aspects of this wine cellar design is the custom designed wrought iron wine cellar doors with two solid glass panels, and two center doors.

Here's a look at the completed product.  As you can see, there's a custom rolling library ladder, and here's a close up look at the stainless steel metal rods used to add a modern feel.

Here's your library ladder, the solid diamond bins, full pull out case storage here, and here. Your stainless steel rods in the design.

Here's a front look of the wine cellar to give you a good look at the archway with the side columns.  Here's a final look of the custom wine cellar and custom wrought iron wine cellar doors designed by Vintage Wine Cellars.

If you would like us to design your wine cellar, please call Vintage Cellar at 800-876-8789.  You can email us at sales@vintagecellars.com.  If you would like to see more examples of our works, visit us at www.vintagewinecellars.com.

Newport Beach is a city in Orange County, California, and is home to many wineries, vineyards, and wine events.  It is worth noting that many residents in the city venture into serious wine collecting because of the abundant wine sources, and the people's innate love for wine.

For avid wine collectors, custom wine cellars are considered a necessary provision.  A wine cellar is worth investing in, because of the convenience, security, wine quality, and other benefits it offers.

We came across one wine collector from Crystal Grove Residential Development who needed a space to store his wines.  He had a small area at home that he wanted to convert into a wine storage facility.
Check out the Custom Wine Cellar Design Drawings
The space has the following dimensions:
Width: 7ft
Depth: 5ft
Height: 9ft
He contacted Vintage Wine Cellars, one of the best wine cellar builders in California.  He specifically wanted a functional and sophisticated custom wine cellar.
Vintage Wine Cellars started the project by consulting with the owners and then creating a wine cellar design.  Below are the drawings that the Vintage Wine Cellars design team created for this custom wine cellar Newport Beach CA project.
See the Attractive Combination of Wine Rack Designs
You can see in the drawings the different wine rack designs that the wine cellar builders combined to achieve a unique custom wine cellar.  These include:
Single bottle storage wooden wine racks
Horizontal storage with high reveal display row
Diamond bin cases
Rectangular bins
Arched tabletop
The single bottle storage wine racks has cubicles that can store 750mL bottles individually.  They have 3 ¾-inch openings that allow easy bottle access.  The edges of the bottle holders were hand-sanded, to protect wine labels from scratches.
Horizontal display storage is a great way to display special wines.  In this custom wine cellar Newport Beach CA project, the horizontal display storage features a high reveal display row.  It stores wine bottles in a 15-degree angle, which helps keep the cork moist and the bottle tightly sealed.
LED lighting was installed on the display row, to illuminate the wine bottles and make the wine labels readily visible.  With the angled position and LED lighting, the wines on the display row are getting the spotlight.
A tabletop with an archway was placed in the center of the custom wine cellar.  A beautiful grape painting was added for a personalized appeal.  For the lighting, a puck light was used.
The solid diamond bins are found at the bottom of the archway.  Here, the bottles are stored one on top of the other, making it ideal for bulk wine storage.
To maximize the storage space, rectangular bins were added on both sides of the closet.  This allowed for the clustering of wines based on variety, size, age, or origin.  Wine bottles of 1.5L or 3L sizes can be stored in rectangular bins.
The wooden wine racks are made of Premium Redwood, one of the best wood species used in the wine racking industry.  A dark walnut stain was applied to enhance the look of the wood's surface.
This stunning custom wine cellar has a total storage capacity of 840 wine bottles.
Making this Custom Wine Cellar Truly Efficient
Wine rack designs are not the only determining factor in building an efficient custom wine cellar.  The temperature and humidity inside the cellar must also be considered.
To ensure the functionality of this custom wine cellar, Vintage Wine Cellars installed a fully ducted wine cellar cooling system from Wine Guardian.  The cooling system maintains the ideal wine cellar temperature and humidity.
It was installed in the attic that lay just above the wine room.  One ducting line system supplies cool air into the wine room, and another exhausts hot air outside the cellar.
The wine cellar cooling system is covered by a louvered grill that matches the wooden wine racks.
Completing the Look of the Wine Room
To complete the cellar, we installed a Barolo style glass wine cellar door.  It is dual-paned, with weather stripping and a concealed door bottom, to prevent the escape of cool air.  The wine cellar door was coated with a Chestnut wood stain, creating a striking contrast with the dark walnut-stained wooden wine racks.
Adding to the unique appearance of this custom wine cellar is the flooring; it is tiled, with lovely color patterns that harmonize with the color of the wooden wine racks.
Vintage Wine Cellars did an amazing job with this custom wine cellar Newport Beach CA project.  The owners were very pleased with the result.  Now, they can store 840 wine bottles, and enjoy the new look in their home.
If you plan to have your own custom wine cellar, just contact Vintage Wine Cellars.  You may also visit their webpage at www.vintagewinecellars.com.
Building a custom wine room is all about controlling temperature and humidity levels and creating a dedicated space for storing and aging wines for a prolonged period of time.  A wine room that is designed and built properly should consistently maintain the ideal climate conditions for optimum wine storage, and efficiently organize and manage wine collections.
The Creative Minds behind this Residential Wine Room Project
This recently completed Baltimore Maryland residential wine room project shows how bringing together the right components can create a stunning wine cellar space that not only maximizes total bottle capacity, but also provides optimum environmental conditions for wine storage.  The Baltimore project is a collaborative effort between Coastal Custom Wine Cellars and Lou Hogan of Vintage Cellars of Maryland.
About Coastal Custom Wine Cellars
Coastal Custom Wine Cellars provides their clients with a free 3-dimensional design package that includes different views and elevations of the proposed wine cellar design.  A 3D illustration shows in detail how every component ties together, and allows the client to make design modifications before green lighting the project.
Coastal Custom Wine Cellars is a full service designer, builder and installer of custom wine cellars.  The company also supplies all components of residential and commercial wine rooms, such as climate control systems, wine racking systems, flooring products, and wine cellar entry doors.
Who is Lou Hogan?
Lou Hogan is a carpenter and a wine aficionado who created a one of a kind business that entices customers from Maryland, Pennsylvania, and even Virginia.
In 2007, Lou Hogan IV started Vintage Cellars of Maryland, Incorporated.  Vintage Cellars aims to deliver the finest carpentry services to wine lovers who plan to have a wine storage facility of their own.  The company also offers just about any home improvement services.
Lou has a showroom located at the Sykesville restaurant in Baldwin Station, where he displays his creations.  His projects are mostly residential, and his clients are generally wine aficionados, just like him.  On average, Lou creates two wine closets and one wine cellar in a month.
According to Hogan, the first thing to consider in creating a wine cellar is the number of wine bottles to store.  This will determine the size and design of the wine cellar.  For him, building a wine cellar is like putting up a refrigerator inside the house.
Lou Hogan's passion for carpentry contributes to the success of Vintage Cellars of Maryland.  He is the only one in Maryland who does this job full-time.
What are the Design Specifications for this Custom Wine Cellar?
All wine racking components come in double deep configurations, to increase the overall bottle capacity of the custom wine cellar.  Various wine storage and display solutions were utilized to create a wine storage space that has a total storage capacity of 4,010 wine bottles.
All wine racks were made from architectural grade Heart Redwood, with a satin lacquer topcoat.  Additionally, all components rest on a 1 ½" toe-kick that raises the bottles off the floor, protecting them against breakage.
Single bottle storage wine racks with a high reveal display row went around the perimeter of the Baltimore custom wine cellar.  A high reveal wine display holds bottles at an angle, with the labels facing front, providing ease of bottle recognition and identification. Aside from the individual cubbyholes for 750 ml wine bottles, the Coastal team also included single bottle openings that can accommodate a total of 136 magnums (or 1.5L).
True radius curved corners are installed in corner areas, in order to maximize every space available in the Baltimore Maryland residential wine room.  Corner wine racks with a true radius curve provide a smooth transition between walls.  Since true radius curved corners are constructed from a single piece of solid wood, they do not exhibit an angled or segmented appearance.
The Baltimore custom wine cellar features a stunning 66-inch long waterfall display.  This custom wine racking provides a cascading appearance that stair steps down to a small tabletop, which can function as a work area for serving or decanting wines.  Additional shelves are provided below the tabletop, for storing wine bottles or other wine accoutrements.
The Baltimore Maryland residential wine room project also features a total of 36 wooden case openings that will help manage and organize wood cases.  The openings come with roller shelves that allow for ease of access and restocking.
A Barolo style door was fitted into the entryway to completely seal the residential wine room and enhance the beauty of the space at the same time.  To effectively prevent cool air from escaping, a wine cellar door must be weather stripped on all sides, and equipped with an automatic door bottom.  Additionally, a wine room door must be of exterior grade quality, to prevent warping and shrinkage.  If the door has glass components, the glass must be dual paned, for better insulation properties.
A proper wine storage environment requires a temperature range of 50 to 55 degrees Fahrenheit, and humidity levels that remain between 60 to 75 percent.  A wine cellar refrigeration system is specially designed to help maintain constant climate conditions.  There are various types of climate control systems that can fit the unique needs and requirements of a wine cellar space.
For the Baltimore wine room project, the Coastal team installed a Wine Guardian Model D050.  This wine cellar refrigeration system is a fully-ductable, self-contained air handler that reliably and efficiently cools areas of up to 3,000 cubic feet.  Wine Guardian cooling products are known to be noise free and energy efficient.  They also provide remote monitoring controls and sensors that allow the constant monitoring of the wine cellar refrigeration system, to ensure that it is performing at optimal levels.
This collaborative project between Coastal Custom Wine Cellars and Lou Hogan of Vintage Cellars of Maryland created a beautiful and elegant space that is not only ideal for storing and aging wines, but also for showcasing the client's many vintages.  For this particular project, the Coastal team handled all wall preparation and installation of wine room components, while Lou handled the design aspect of the wine room.
Why is it Important to Observe Proper Wine Storage? 
How wine collectors choose to store their wines can greatly improve, or hamper, the development of their liquid assets.  Proper wine storage must be observed when growing a wine collection.  This is to ensure that the flavor and aroma of wines are well-preserved for a prolonged period of time.
Keep in mind that sudden changes in the storage environment can profoundly impact the overall quality of wines.  It is importance to maintain the proper temperature range (50°F – 55°F) and the right amount of humidity (60% – 75%) inside the cellar, as well as the exposure of wines to direct sunlight, or fluorescent fixtures that emit high ultraviolet rays.
How Can a Custom Wine Cellar Help Preserve Wine?
A custom wine cellar is considered the ideal location for long-term wine storage.  They are not only designed to create optimum climate conditions for wines to mature accordingly, but also provide ample space, in which to store large quantities of wine bottles.  Having a custom wine cellar in the comfort of one's home offers convenience to the passionate wine collector and adds aesthetic appeal to the living space.
Most wine cellars are actively cooled, which means they are equipped with wine cellar refrigeration systems to help maintain the ideal wine storage conditions.  In order for custom wine rooms to be efficient, they need to have proper insulation and vapor barrier, and a tight seal.
Who are the Most Trusted Wine Cellar Builders?
There are several wine cellar builders that you can contact and ask assistance from when you plan to build a custom wine cellar.
Coastal Custom Wine Cellars is one of the best wine cellar builders in California.  If your custom wine cellar project is located in California, New York, New Jersey, Connecticut, Maryland, Massachusetts, Washington or New Hampshire, then Coastal Custom Wine Cellars is the perfect wine cellar builder choice.
They have more than 10 years of experience in designing and building custom wine cellars of both residential and commercial types.  They provide assistance from the design concept, to the actual construction, and even after that.
Check out their custom wine cellar projects at this page http://www.winecellarsbycoastal.com/custom-wine-cellars.aspx.
Wine Cellar Specialists is the best wine cellar builder for you if you are located in Texas, Illinois, Louisiana, or Tennessee.  They are experts in creating wine storage furniture for personal or commercial use.
A wine cellar specialist will help you in the process, from your design specifications to the completion of your custom wine cellar project.
Visit Wine Cellar Specialists' website now to view their wine cellar gallery.
If you want to build a custom wine cellar in California, then Wine Cellar International is the preferred wine cellar builder.
Wine Cellar International is passionate in planning and building home wine cellars for avid wine collectors and commercial wine cellars for wine business owners.  Click on the photo above to get started with your custom wine cellar project in California.
What are the Common and Affordable Wine Storage Alternatives to Custom Wine Cellars?
Since not all wine collectors can afford to have their own custom wine cellar, there are a range of affordable wine storage options available on the market, such as wine racks and refrigerated wine cabinets.

Wine rack kits are designed to store, organize, display and manage different types of wine bottles.  They are made out of various materials, and come in many styles, sizes and configurations, that can accommodate a range of storage and display needs and management requirements.  Wine rack kits are ideal for small scale wine storage.

The most common materials used in wine rack construction are wood and metal.  Wine rack kits made out of wood provide a traditional look to a wine storage space, and easily blend into any décor.  Premium Redwood, All Heart Redwood, Mahogany, and Pine are some of the most popular wood species used in building wine racks.

Metal wine racks go well with a contemporary themed wine cellar space.  Most metal wine racking styles are mounted on walls that facilitate a label forward orientation for wine bottles.  Custom wine racks built out of metal can also be painted to match any wine cellar interior.

Another budget friendly wine storage option is a refrigerated wine cabinet.  Refrigerated wine cabinets are designed to provide a climate controlled environment that is ideal for aging wines.  It comes with thermostat controls that allow wine collectors to adjust temperature and humidity levels.  Some wine cabinets come with stemware racks, for hanging wine glasses, while others have drawers for storing wine accoutrements (e.g. corkscrews, bottle stoppers, napkins).

Coastal Custom Wine Cellars, Wine Cellar Specialists, or Wine Cellar International wine cellar builders offer various custom wine racks and refrigerated wine cabinets.  Just visit their websites to check out their products.

When choosing the right wine storage option for you, start by setting your budget, choosing your preferred wine storage furniture, picking the design you want, and then letting your wine cellar builder help you during the process.

In March of 2012, International Wine Accessories took on a custom wine cellar project.  With the help of expert designer Jimmy Simmons, it was completed it just two short months. Building it quickly, while maintaining the balance between appeal and function, is important  for a company like Bella Vita Wine  Cellars.

The cellar was constructed with black-finished metal wine-racks, giving the cellar a sleek, refined touch.  The racks were not only aesthetically appealing, they also had a unique aspect ideal for this specific project – they were earthquake proof.

This was achieved by attaching straps to the racks.  In the event of an earthquake, they would hold the bottles safe.  The racks were also 3 bottles deep to maximize the cellar's storage capacity.  Once installed, the racks could hold up to 936 bottles of various shapes and sizes.

All of these wines would be kept in ideal wine conditions as well, thanks to the CellarPro 3200VSi cooling unit put in.  Though the unit could be used for any wine cellar, it was ideal for this project in particular.

This is because the unit would be taking air from outside, where random debris could get sucked into it and clog it, ultimately breaking the cooling unit down.  However, the CellarPro came with its own filtration system to deal with just such a thing.

It could filter the debris and continue to function smoothly – something unique to CellarPro cooling units.

In order for all of this to be put in, the beginning of the project required hard work.  The cellar was originally a spare basement room used to store pool supplies.  It required an airtight wall to be built, as well as a door.

Once that was achieved, the racks were installed and the cooling unit placed against the wall with the door.  The door was also given a combination lock for optimum security.

To learn about the project in greater detail, click here:

Design & Build Custom Wine Cellars St. Louis Missouri Proj

See more wine cellar design videos by Bella Vita and Coastal Custom Wine Cellars
Wine Cellar Design Processed Video Transcription
Hi! My name is Jerry Wilson, I'm the founder of Coastal Custom Wine Cellars. I'd like to take you on a tour of one of our 3 dimensional design package for this new custom wine cellar in St. Louis Missouri.
This is a recent project that we completed in July 2012. Our client was looking for maximum capacity and a kind of fusion of modern and traditional wine cellar appearances. It is a difficult thing to do with wood, making it contemporary but to add to the characteristics of the wine room, we included as you'll see in the pictures that I will share here with you, a full glass, a seamless glass, fixed wall on entry for a really stunning visual as well.
The walls are labeled, elevations A and B, and here's the front wall which is a fixed glass. Elevations B are the left side and right side wall, and they are mirror images of each other. We kept clean, simple balance and symmetry to this wine room. We did not want to do anything to over the top as we are trying to keep the dimensions simple and with modern appearance.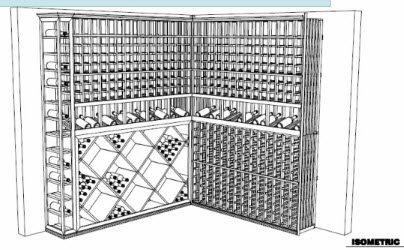 Single bottle storage above a high reveal display row which is illuminated by LED lighting and then we some bulk storage in the diamond areas here. The back wall we kept simple, with just single bottle storage and high reveal display, and as you can see in the 3D visuals you get a little bit better idea on how everything comes together.
Notice this left column here and this right side column, these are label forward horizontal displays and it added a nice touch from as far as the visual from outside of the custom wine cellar. This wine cellar being just 7 feet by 7 feet with a 7-foot height can house 926 bottles.
We utilized CellarPro 4200 wine cellar refrigeration unit and we use some cooperage from oak barrel wine barrels from Napa Valley. I'll show some pictures of that as well.
As you can see, the left side here and the right side of the label forward horizontal displays, we did it to capture some modern appearance, somewhat modern and contemporary beautiful wine cellar.
If you remember, we talked about the wine cellar refrigeration. We used the CellarPro 4200 with remote display where you can see the LED display in the control and there is no visible equipment in the wine room.
Typically, the CellarPro systems are self-contained, through-the-wall systems that are actually visible in the wine room. But in this case, we opted to include a rear ducting kit and a front ducting kit. What these enable us to do was to eliminate the presence of a cooling unit in the wine cellar.  It's actually placed in the ceiling, above the ceiling I should say. The cold air is ducted to and from the wine room and the hot air exhaust is not set to the adjoining area of the home. It's actually ducted to the outdoors.
The wine cellar flooring as you can see is rather unique. This is made from 10-year old Napa Valley oak barrels. We utilize the cooperage series. These are actually made from the top of the barrels that are actually branded by the wineries for identification purposes. It is a very simple tongue and groove installation just like any wood flooring. It will really make a nice statement.
If you have a home custom wine cellar design project, we'd be happy to help you.
Please contact us directly at +1 (949) 355-4376. Cheers!