Design & Build Custom Wine Cellars St. Louis Missouri Proj

See more wine cellar design videos by Bella Vita and Coastal Custom Wine Cellars
Wine Cellar Design Processed Video Transcription
Hi! My name is Jerry Wilson, I'm the founder of Coastal Custom Wine Cellars. I'd like to take you on a tour of one of our 3 dimensional design package for this new custom wine cellar in St. Louis Missouri.
This is a recent project that we completed in July 2012. Our client was looking for maximum capacity and a kind of fusion of modern and traditional wine cellar appearances. It is a difficult thing to do with wood, making it contemporary but to add to the characteristics of the wine room, we included as you'll see in the pictures that I will share here with you, a full glass, a seamless glass, fixed wall on entry for a really stunning visual as well.
The walls are labeled, elevations A and B, and here's the front wall which is a fixed glass. Elevations B are the left side and right side wall, and they are mirror images of each other. We kept clean, simple balance and symmetry to this wine room. We did not want to do anything to over the top as we are trying to keep the dimensions simple and with modern appearance.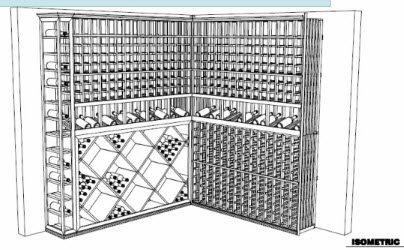 Single bottle storage above a high reveal display row which is illuminated by LED lighting and then we some bulk storage in the diamond areas here. The back wall we kept simple, with just single bottle storage and high reveal display, and as you can see in the 3D visuals you get a little bit better idea on how everything comes together.
Notice this left column here and this right side column, these are label forward horizontal displays and it added a nice touch from as far as the visual from outside of the custom wine cellar. This wine cellar being just 7 feet by 7 feet with a 7-foot height can house 926 bottles.
We utilized CellarPro 4200 wine cellar refrigeration unit and we use some cooperage from oak barrel wine barrels from Napa Valley. I'll show some pictures of that as well.
As you can see, the left side here and the right side of the label forward horizontal displays, we did it to capture some modern appearance, somewhat modern and contemporary beautiful wine cellar.
If you remember, we talked about the wine cellar refrigeration. We used the CellarPro 4200 with remote display where you can see the LED display in the control and there is no visible equipment in the wine room.
Typically, the CellarPro systems are self-contained, through-the-wall systems that are actually visible in the wine room. But in this case, we opted to include a rear ducting kit and a front ducting kit. What these enable us to do was to eliminate the presence of a cooling unit in the wine cellar.  It's actually placed in the ceiling, above the ceiling I should say. The cold air is ducted to and from the wine room and the hot air exhaust is not set to the adjoining area of the home. It's actually ducted to the outdoors.
The wine cellar flooring as you can see is rather unique. This is made from 10-year old Napa Valley oak barrels. We utilize the cooperage series. These are actually made from the top of the barrels that are actually branded by the wineries for identification purposes. It is a very simple tongue and groove installation just like any wood flooring. It will really make a nice statement.
If you have a home custom wine cellar design project, we'd be happy to help you.
Please contact us directly at +1 (949) 355-4376. Cheers!