You are ready to start your wine room conversion project, but how can you be sure if your chosen builder is a professional wine cellar contractor in Orange County? This article provides helpful information about the advantages of hiring an expert like Custom Wine Cellars Orange County and the questions you should ask to ensure that they are reliable and knowledgeable..
Positive Impact of Working with Wine Cellar Contractor Who Has Extensive Experience in the Design and Installation of Climate-Controlled Wine Rooms
Hiring a builder who lacks experience and knowledge will result in costly wine storage problems. There are many wine cellar contractors in the United States. If you want to prevent your wine collection from going to waste, make sure that you hire a professional wine cellar contractor who is creative and a passionate expert in designing and installing residential and commercial wine rooms.
At Custom Wine Cellars Orange County, we have been in the industry for several years. Working with different clients with unique needs helped us to gain more knowledge, and we have proved our superior performance, and excellent customer service during and after the project has been completed.
Our team makes sure that your wine display area adds aesthetic value to your home or business. Moreover, we also want your prized wines to be kept in a place with a stable environment.
Asking These Questions Will Help You Choose the Best Wine Cellar Contractor in Orange County
When choosing a wine cellar contractor, there are significant questions that you need to ask about the company. This process will help to ensure that the construction will go smoothly from the beginning through to the completion of the project.
1. How Many Refrigerated Residential and Commercial Wine Cellars Have You Built, and Why Should I Choose You Over Other Wine Cellar Contractors?
You will want your wine room to be built by someone who has extensive experience in installing wine rooms in Orange County equipped with a wine cellar refrigeration system. Creating the ideal wine storage environment requires skill and knowledge. As one of the most reliable wine cellar contractors in Orange County, California, we are proud to have completed numerous wine cellar design, installation, and HVAC refrigeration projects for residential and commercial applications. Check out our wine cellar project gallery.
At Custom Wine Cellars Orange County, our team is composed of members who are trained to prepare the wine rooms before the construction begins. We always make sure that your wine cellar is ready for the installation of a wine cooling unit.
We have in-depth knowledge of determining the correct size and type of climate-control system, as well as its proper installation.  You do not have to worry about anything because we will take care of everything!
2. How Do You Design a Wine Cellar in Orange County?
The first step that your chosen wine cellar contractor should do before preparing your wine room for construction is to make a careful assessment of your functional, aesthetic, and financial requirements. At Custom Wine Cellars Orange County, we will visit your site, sit down with you, ask you questions, and take note of all the information necessary for designing your dream wine room.
After this step, we will create 3-dimensional drawings that show the room dimensions, different elevations, racking capacities, and wine rack styles. We will then submit the CAD drawings to you. You can make changes to the design, and once you have approved it, we will proceed with room preparation.
3. How Do You Prepare the Wine Room for Wine Cellar Construction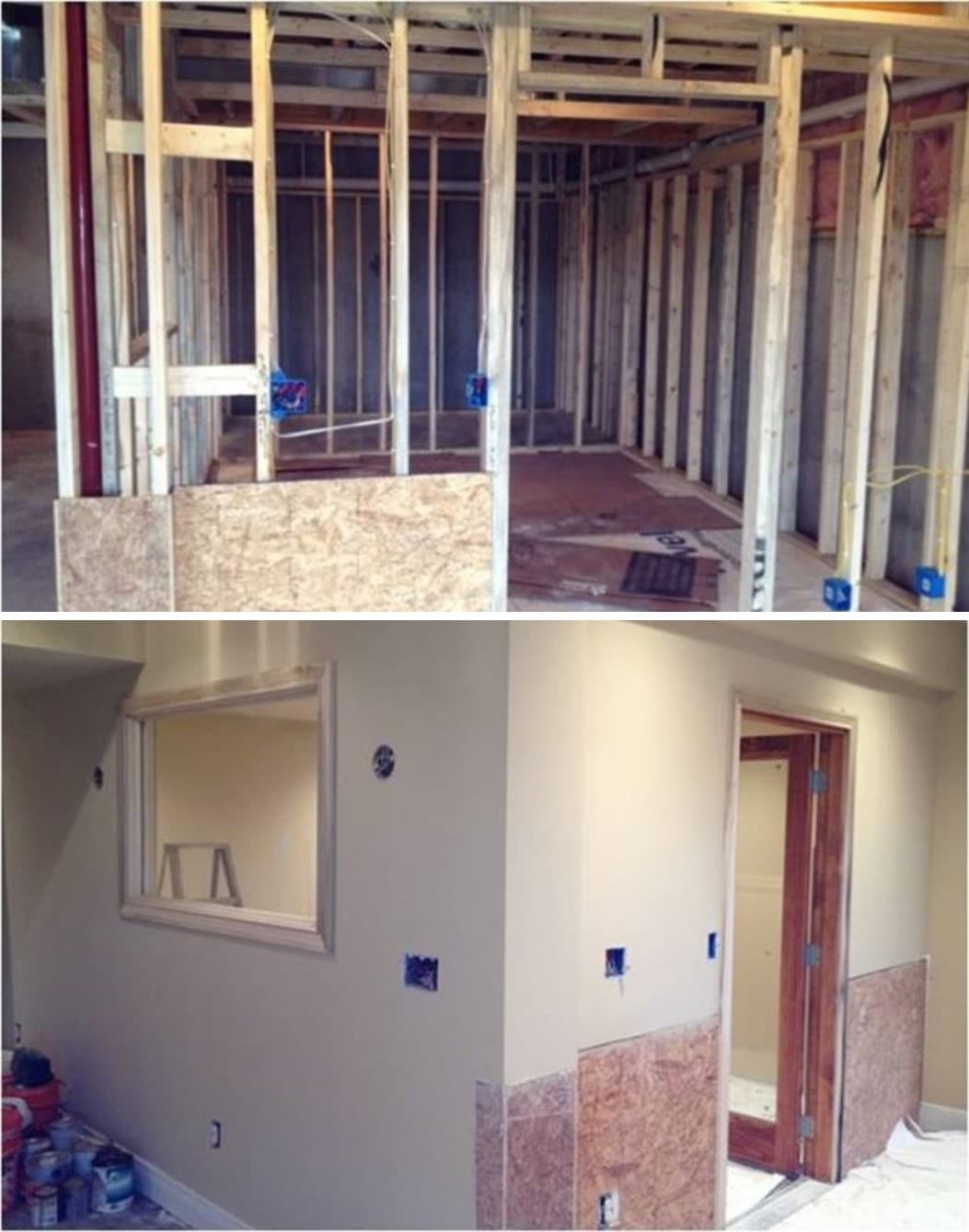 Your wine cellar contractor should know and understand the vital role of insulation and vapor barriers. After framing the wine room and completing the electrical work and rough-in plumbing, it is a crucial step to install the correct insulation on the walls and ceiling.
We at Custom Wine Cellars Orange County are known for our expertise in sealing climate-controlled wine rooms. We will determine the R-value required for your wine cellar, considering the following factors:
The amount of glass to be utilized for your walls and doors
The size and location of your wine cellar
Our team is aware that the insulation and addition of a vapor barrier will prevent the warm air from the outside environment from getting into your wine cellar and the cold air from escaping.  Extreme changes in temperatures and humidity levels are detrimental to your wines. Wine will deteriorate quickly.
Varying humidity levels will trigger the growth of mold and mildew in the wall cavities and ceiling, as well as on the wine labels and cork. The worst thing that can happen is when the fungi on the cork contaminate the wine and give it an unpleasant smell.
4. What Material Do You Use for the Insulation and Vapor Barrier?
As a knowledgeable wine cellar contractor whose primary goal is to create a safe place for our client's wine collection, we use only high-quality products and materials. We use closed-cell foam polyurethane insulation because of its efficiency. It expands to fill even the smallest cavities or cracks in the walls. It is also an excellent option for those who are on a budget because it eliminates the need to install a vapor barrier. It has a 2-in-1 function: an insulator and a vapor barrier.
5. What Brands of Wine Cellar Refrigeration System Do You and Other Professional Wine Cellar Contractors in Orange County Use and Recommend?
Determining the brand, type, and capacity of the wine cellar refrigeration system requires the help of an HVAC specialist in Orange County. Work with the best wine cellar builder who understands how wine cooling units should function and how they should be installed correctly.
At Custom Wine Cellars Orange County, we offer wine cellar cooling systems from the following trusted manufacturers and HVAC specialists:
Wine Guardian
WhisperKOOL
US Cellar Systems
CellarPro
6. What are Your Considerations in Choosing a Wine Cellar Cooling Unit? How Do You Determine the Type, Size, and Capacity?
Our team is composed of wine cellar contractors who always make sure that the equipment installed in your wine cellar suits your requirements and needs. There are some factors to consider when choosing a climate-control system that suits your needs.
Noise production – Keep in mind that most self-contained wine cooling systems produce minimal noise. If you do not want noise inside your wine room, we have ducted and ductless wine refrigeration systems.
Exhaust room – The availability of an exhaust room for proper heat dissipation also plays a crucial role in determining the type of wine cooling system for your home or business.
Size and location of the room – It is essential to know the size and location of your wine cellar. If it is big and located in a place with high humidity levels, we have to choose a wine cellar cooling unit with a high capacity.
We perform a heat load calculation to help determine the best climate control system for your needs.
7. 
What Method Do 
You Use 
to
Determine the Type, Size, and Capacity
of the Wine Cooli
ng Unit 
That Suits Every Wine Cellar?
We perform a heat load calculation to help determine the best climate control system for your needs. It will tell us the BTU (British Thermal Unit) required to cool your wine cellar efficiently.  
The following factors have a significant effect on the results of the calculation: 
Amount of glass to 

be 

used for the walls and doors

 

Traffic

 

Type of lighting

 

Heat sources that can affect the cooling process of your wine cooling unit
8. What is the Process for the Repair of My Wine Refrigeration System?
Many factors can affect the performance and lifespan of your wine cooling system. When it is forced to work harder than its normal operation due to air leakage, it will not function correctly. We suggest reporting the problem to us earlier before it gets worse and results in the replacement of your equipment.
When you have observed any issues with how your cooling unit works, you have to call us, and we will schedule an onsite visit to determine the problem and repair your system as needed.
9. Do You Use High-Quality Wine Racks? Do You Work with Wine Cellar Contractors Who Manufacture Them?
All of our wine racks are constructed from high-quality wood species and metal. We have suppliers for wooden and metal wine racks. You can choose the material for your custom wine racks, but we will recommend the best one for your project.
10. What Kind and Style of Wine Room Doors Do You Use for Your Projects in Orange County?
Like what most knowledgeable wine cellar contractors do, we install exterior-grade doors equipped with sealing components such as weather stripping, threshold, and an automatic door bottom.  For glass wine cellar doors, we use dual-paned and thermally insulated glass panels to help keep a stable environment. The wrong door construction will lead to condensation problems that will damage your wines.
You can choose from the elegant styles of wine cellar doors that we have. We have solid doors, wrought iron with glass, seamless glass, glass with wooden frame, glass with iron frame, and steel doors. You may also opt for custom wine cellar doors to fit your needs.
Work with One of the Most Reliable Wine Cellar Contractors in Orange County
Our team has proven our excellent performance and reliability as a top-notch custom wine cellar contractor in California. When you work with us, you will not have to worry about anything because we always make sure that your wine room is constructed correctly using high-grade components.
We will transform your walk-in closet or space under the stairs into a functional and striking custom wine cellar. Call us today at +1 (714) 863 3634, and one of our wine cellar specialists will contact you.